Blog 丨 2021.08.06
An Update on the Legal Status of Cannabis in the US
Introduction: The Momentum for Legalization
With Connecticut recently becoming the 18th state in the US to legalize recreational cannabis use, the trend towards legalization at the state level continues to pick up steam, while federal legalization has even become a plausible topic of discussion within the next few years. With pending legal developments in Maryland, Florida, and Missouri, the path towards legalization becomes more apparent in a number of states. Meanwhile, developments in both recently-created and mature legal cannabis markets provide insight into how market and regulatory factors may develop in states with newly legalized cannabis markets. The cannabis industry in the United States is therefore poised for accelerating growth as more legal markets are added while the existing markets continue to mature, with the prospect of federal legalization creating an even larger country-wide market.
Legalization Picks Up Steam in the States
In Maryland, legislators are engaged in exploring steps towards reform that would preempt the public referendum method that has been used to pass 13 of the existing 18 cannabis legalization measures at the state level. Senate President Bill Ferguson has "indicated that the legislature should expediently tackle the reform, rather than wait to have voters decide on the issue (Jaeger, 2021a)," demonstrating that political dynamics may be in the process of becoming more aligned with public opinion. This development, along with others, indicates that political incentives to address legalization are likely to only increase at both the state and federal levels in the future.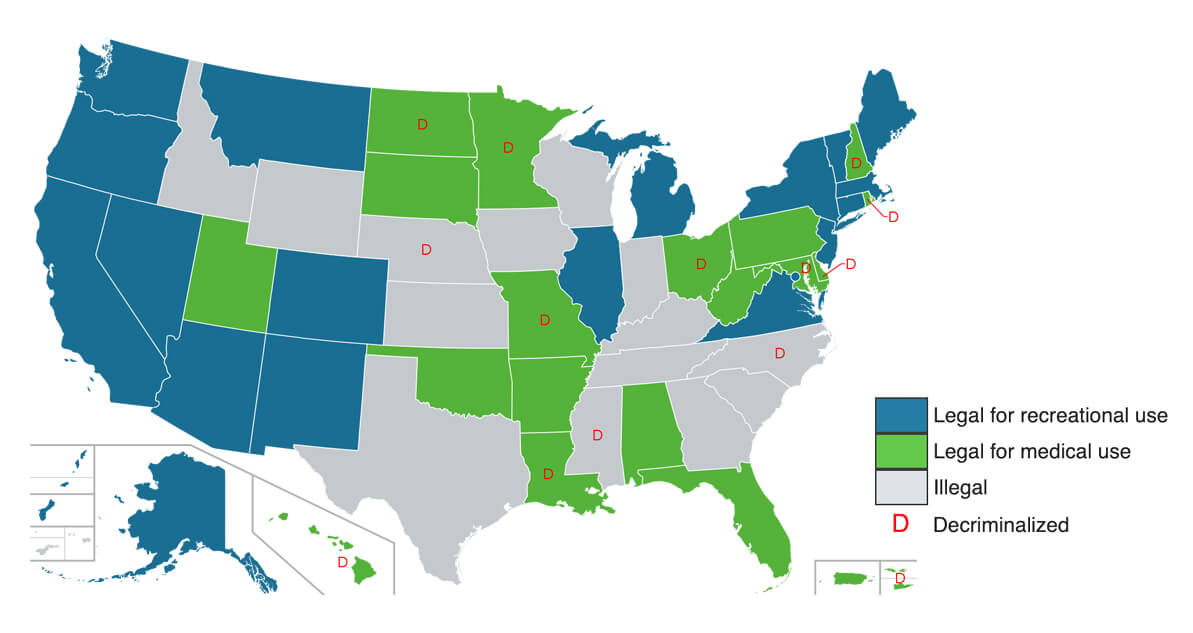 Map of Legal Cannabis by State
Source: Wikimedia Commons
Missouri appears to be taking the other route, with multiple citizen and advocacy groups having applied and planning to file initiatives for a 2022 ballot measure. One of these groups, Fair Access Missouri, has said in a statement that "we've seen across the country that smart rules and an open market are the way to go when legalizing cannabis, and that's what we'll be bringing to Missouri (Jaeger, 2021b)," demonstrating that advocacy groups now have a wide range of evidence and history to back up claims about the practical benefits of cannabis legalization from an administrative, economic, and public health standpoint. Both to voters and policymakers, cannabis legalization, is becoming an increasingly preferable course of action.
Public opinion has pushed similar discussions in Florida, although state legislatures remain reluctant to address cannabis legalization. A recent poll that found 59% of Florida residents approve of recreational cannabis legalization has given some hope to activists, yet two recent ballot initiatives were rejected by the legislature for "misleading language," while federal legislation remains a key blocking point for Florida state legislators (Saunders, 2021). However, this also means that steps taken at the federal level to decriminalize or legalize cannabis use would likely have a rollover effect on state legislatures, not only in Florida but, potentially, across the country. Luckily for legalization proponents, there are signs of the shift that has been occurring since Colorado started the state-by-state push towards legalization in 2012 (Garber-Paul & Bort, 2021).
Federal Cannabis Legalization: Closer to Reality Than Ever Before
Federal cannabis legalization has remained a hot topic as the popular legalization movement has gained steam, yet concrete steps to remove cannabis from the controlled substances list and find a path towards regulation have been limited until recently. However, in July of this year, Senator Chuck Schumer proposed legislation (Fandos, 2021) that could indicate a shifting political tide on the issue at the federal level. Schumer's statement that "we have all seen the agony of a young person arrested with a small amount of marijuana in his or her pocket" points towards another aspect that is likely to play an increasing role in the framing of the legalization issue, which is the social justice aspect of prohibition. The at-times severe penalties imposed for cannabis possession are increasingly viewed by the public as incompatible with the safe nature of cannabis. Moreover, evidence from existing legal cannabis states can help show how legalization looks in practice which counters some of the most common arguments against legalization.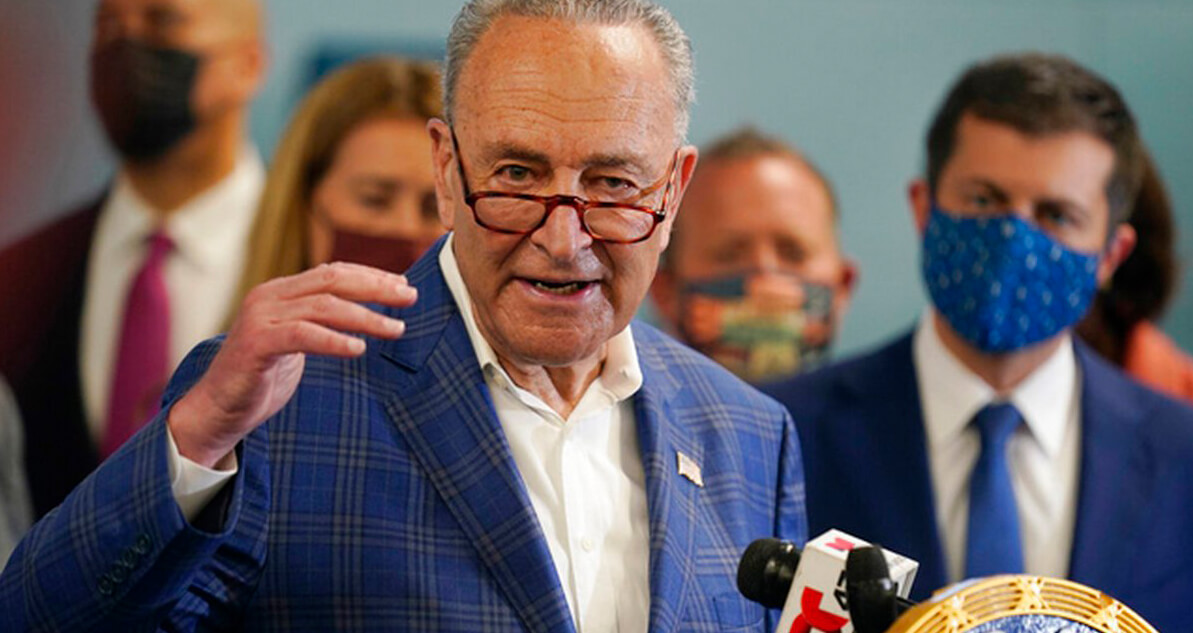 Chuck Schumer, US Senate Sponsor of Decriminalization Legislation
Source: Wikimedia Commons
Trends in the Legal States: Demonstrating the Measurable Benefits of Legalization
On the one hand, the beginning of the legalization process in Virginia, approved earlier this year and expected to go into effect in 2024, demonstrates some of the logistical challenges that states face when implementing a recreational cannabis policy. The hiring of the state's first "cannabis attorney" by Virginia's Attorney General (Fox 5 Digital Team, 2021), for example, demonstrates the importance of investing in new administrative structures in order for the legalization process to run smoothly. Nonetheless, there is increasingly abundant evidence from mature legal markets to demonstrate that a successful legalization and regulation process is a remarkably sound investment for a state's budget.
For example, a recent study of Colorado cannabis-related public benchmarks found significant evidence of a continuing positive impact of legalization, with not only increased tax revenues but also decreases in arrests (Ingold, 2021). Instead of being associated with crime and leading to a strain on the justice system, as argued by some opponents, there is evidence that cannabis legalization in Colorado has indeed reduced strain on the system, giving it the ability to focus on socially harmful (and publicly costly) behaviours. Finally, on a state-by-state basis, there is even evidence that cannabis legalization can improve economic outcomes on a macro scale, such as one study which found that property value increases in states with legal recreational cannabis between 2017 and 2019 were $6,338 higher than increases in states without legal cannabis (Jaeger, 2021c). Ultimately, the evidence in favour of the beneficial impact of cannabis legalization in a number of areas is large and continues to grow.
Conclusion: One Path Forward
The momentum behind cannabis legalization across the US is growing and appears to be beyond the reversal point. This news is extremely welcome for both those involved in the cannabis industry in the United States and consumers who desire a regulated and safe experience. Each new state that legalizes cannabis represents a new opportunity for firms in the recreational cannabis space. Combined with the prospect of federal legalization, the spread of legalization from state to state represents a significant opportunity for growth-seeking cannabis firms. Continue to watch this space for the most up-to-date reporting and analysis on legalization trends for insight into the newest opportunities created by the push towards legalization.