Blog 丨 2021.10.19
Cannabis and the Law: A State-by-State Look
The cannabis industry in the US is ripe with opportunities. More states are legalizing recreational cannabis each year, leading to significant new markets being opened up essentially overnight. Knowledge of the state-by-state cannabis laws in the United States is essential for any investor in the cannabis space, including the cannabis vaping industry. The market in each state has developed differently, and each state has implemented different regulatory structures. Investors must understand the market and regulatory system in each state to identify the most promising opportunities. The following guide provides the most pertinent information on the legal status of cannabis in the 18 states that have legalized recreational use.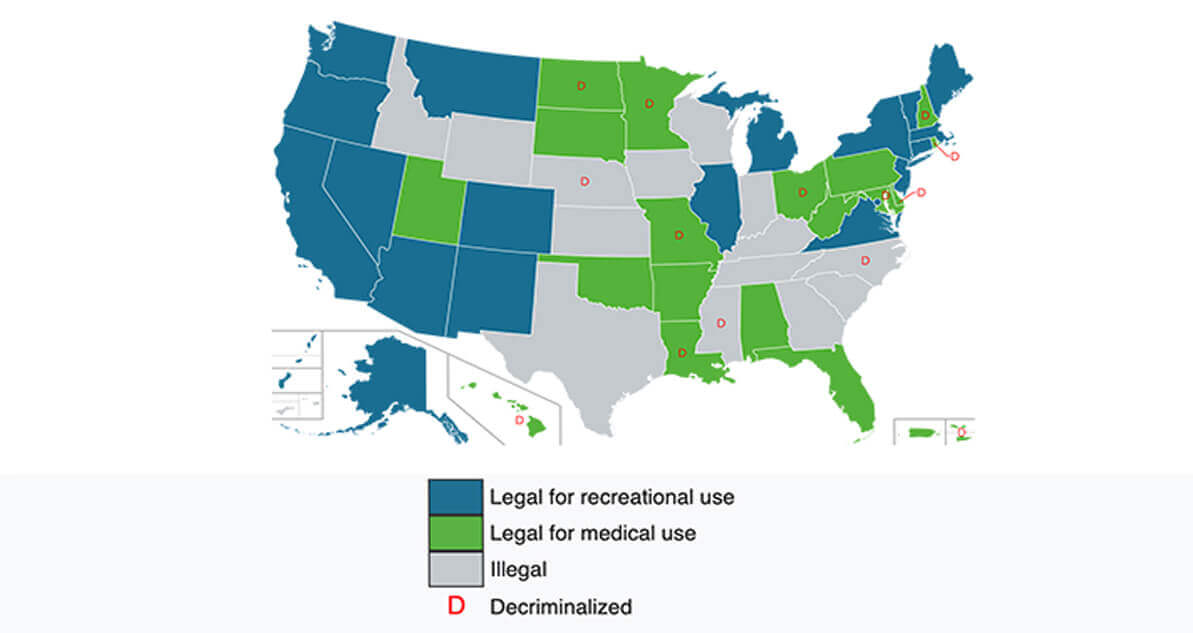 Source: Wikimedia Commons
The First Wave: Colorado and Washington
In November 2012, voters in Colorado and Washington passed ballot initiatives to become the first states in the country to legalize recreational cannabis use (Smith, 2012). Colorado and Washington were the first states to navigate the complex position of statewide legalization while cannabis remained illegal federally for any purpose. The two states implemented regulated cannabis sales at quite different speeds. Colorado worked relatively fast, with a wide range of stores opening statewide in January 2014 (Hudak & Wallach). On the other hand, it took Washington until July to finish setting up its regulatory board and approve retail licenses.
Moreover, the initial opening in Washington was far more limited. There was a minimal number of licenses for distribution granted across the state, but also, there was a limited amount of available supply. While Colorado could compete with the black market, legal weed in Washington had difficulty competing with the illicit trade due to low availability and high prices (Cassidy, 2021). Nonetheless, after dealing with the initial growing pains, Washington has created a flourishing cannabis market, with tax revenues in 2020 growing by 21% to $469 Million, only behind California. Meanwhile, Colorado continues to excel, coming in third with $387 Million in tax revenue last year (Bieber, 2021).
The Second Movers: Alaska and Oregon
The second entrants into the legal cannabis market were Alaska and Oregon, where voters decided to legalize recreational cannabis in 2014. These decisions marked the spread of legalization across the country (McGreal, 2014). In Alaska, weed legalization has been a success, and by 2020 tax revenue for cannabis exceeded that for alcohol, despite some of the least stringent taxes on cannabis in the nation (Long, 2020).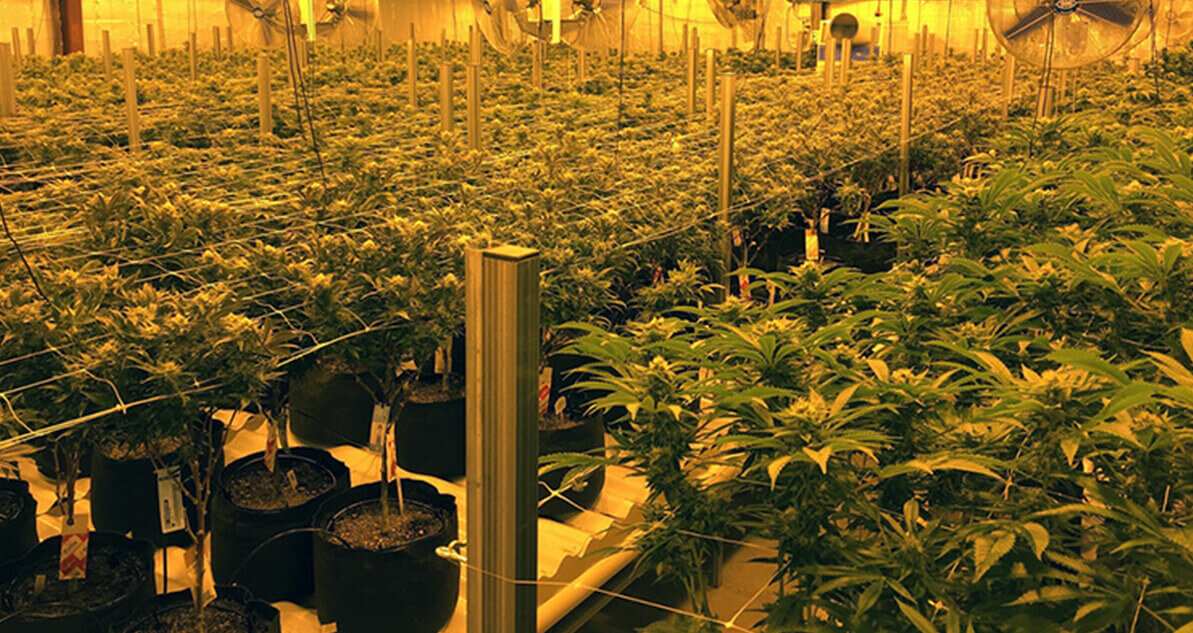 An Indoor Cannabis Growing Operation in Oregon
Source: Flickr
Oregon has been even more successful, driven by its relatively large population and total economic size. For this reason, Oregon is now considered one of the most mature legal cannabis markets (Foden-Vencil, 2021). Oregon is currently experiencing rapid market consolidation, as larger cannabis firms buy up smaller firms. With the fast entry of large multinational firms into the market, Oregon is projected to experience continued growth.
The Third Group: California, Nevada, Massachusetts, and Maine
California, Nevada, Massachusetts and Maine became the third group of states to legalize recreational use in 2016. As in Colorado and Washington, the legislation was passed by voters through a ballot measure in all three states. Legalization in California immediately shifted the US cannabis market. California is one of the largest states in terms of population and economy (Smith, 2017). Therefore, the state quickly rose to become the most prominent legal weed market in the country, despite some remaining struggles. Legalization in Nevada has not been as successful, with the black market cutting out a large part of the potential legal market (Solis, 2021). Nonetheless, the market has expanded over time, with tax revenues reaching $50 Million in 2020.
Massachusetts and Maine each have had a more difficult time creating a legal cannabis market. In Massachusetts, although sales have accelerated over the last two years, regulatory hurdles remain a significant barrier to entry for many seeking to enter the industry (Haynes, 2021). Not only does it cost $500,000 to apply for a license, but also there are additional fees imposed on business owners to begin a retail operation.
These fees include up to 3% of costs imposed by the local municipality in which the license is issued. Meanwhile, the black market contributes 70% of cannabis sales in Massachusetts (Solis, 2021). Similarly, Maine has had difficulty expanding its legal weed markets due to regulatory hurdles and low market size. Nonetheless, the legal cannabis market in Massachusetts and Maine are rapidly growing and still represent sizeable opportunities for those with the capital to navigate the states' regulatory hurdles.
More States Follow the Lead: Vermont, Michigan and Illinois
In 2019, three more states legalized recreational cannabis. Vermont became the first to do so through the legislature instead of through a public initiative (Zezima, 2018). However, Vermont has implemented a slower process than other states. In particular, Vermont only legalized recreational use and personal cultivation without legalizing regulated retail sales. Instead, Vermont only legalized retail sales in 2020, meaning that its legal cannabis market should be considered relatively immature compared to the other states in this group.
Development of the market has also been slow in Michigan and Illinois. In Michigan, all recreational cannabis retail still goes through the medical licensing system (Law, 2020). Until December 2021, any business that wishes to sell cannabis must apply for a medical marijuana license. Only after it has done so can it apply for a recreational retail license. Similarly, retail sales in Illinois have been slow, and businesses still must operate under the medical cannabis license structure (ABC 7 Chicago, 2020). The experience of states that recently legalized cannabis illustrates that many hurdles remain, despite the knowledge gained from the experience of earlier states.
A Big Year for Legalization: New Jersey, Arizona, Montana and South Dakota
2020 marked another big year for the legalization process, with legalization measures passing in New Jersey, Arizona, Montana and South Dakota. At the same time, some states face severe delays in actually having cannabis products available in stores. In New Jersey, only 12 existing medical providers have been authorized for retail cannabis sales once sales are allowed (Adubato, 2021). Retail sales are expected to begin in the state at the end of 2021 at the earliest.
The process has been relatively fast in Arizona, with retail sales beginning in early 2021 (Team Headset, 2021). Nonetheless, the Arizona recreational market is expected to reach $400 Million in sales during its first year. In Montana, retail sales are slated to begin in the first month of 2022, yet significant questions remain about whether supply will meet demand (Franz, 2021). Finally, South Dakota has achieved almost no progress towards retail cannabis sales. The one exception is a small town located on a Sioux reservation, which is currently the only operating cannabis dispensary in the state (Roberts, 2021). Retail sales are not expected to begin until 2022 at the earliest.
The Process Continues: New York, Virginia, New Mexico
The swift push towards legalization has continued in 2021, with three states already passing legalization measures. As opposed to other states, these three states have focused on social issues related to legalization, with all three deciding to automatically remove minor cannabis convictions from all criminal records (EMCDDA, 2021). However, these three states have yet to determine a regulatory structure for retail sales and currently only allow private cultivation and use. In New York and New Mexico, the legislation included provisions to create designated spaces for consuming cannabis, such as cafes. These two states also have implemented a procedure for cannabis shipment and at-home delivery. This final legal consideration has massive implications for legal weed markets across the country, indicating the importance of delivery services to consumers.
Conclusion
Legal weed markets have been developing in certain states for nearly a decade. Others have only recently begun the process of setting up legal markets. The experience of mature markets demonstrates how gains from market consolidation and integration can lead to explosive growth. At the same time, many states continue to bring momentum to their legal cannabis markets. The coming years are certain to hold many more moves by states to implement their own legalization policies. As momentum increases, the federal government will likely legalize cannabis nationwide. Until then, following the developments of the legal status of cannabis in each state is crucial for any cannabis business.