Blog 丨 2021.11.11
The New Developments in the Medical Cannabis Vaporizer Market
Given the rising rate of cannabis use in the US, Cilicon has decided to analyze further the emerging phenomenon of cannabis vaping in the medicinal market that promotes public health. A crucial concern about medicinal cannabis is the need for a safe administration technique and the prospective market. Like tobacco use, smoking cannabis joints is associated with aerodigestive cancers and other mild and severe respiratory disorders. Therefore, Cilicon intends to deliver the best alternative cannabis administration methods to the cannabis industry and vapers by inventing the best cannabis vaporizers to provide efficient, safe, affordable, and quality results.

For cannabis consumers suffering from respiratory complications, the use of vaporizers can provide less severe symptoms due to the decarboxylating effect of the vaporizer. Cannabis vaporizers decarboxylate cannabinoids at high temperatures releasing neutral cannabinoids that are cleaner and less toxic. In fact, cannabis vapers avoid inhaling toxic combustion substances such as tar, carbon monoxide, and carcinogens using cannabis vaporizers compared to traditional cannabis joints.
Today, the increased usage of cannabis vaporizers due to technological advancement, cannabis legalization, and a rapid rise in chronic diseases among youths and the aged has attracted a large market, especially in the pharmaceutical industry, laboratories, hospitals, and research centers globally. Therefore, with the growing popularity of cannabis vaporizers, administering medicinal cannabis through vaporizers is essential in developing favorable health and market attitudes towards cannabis.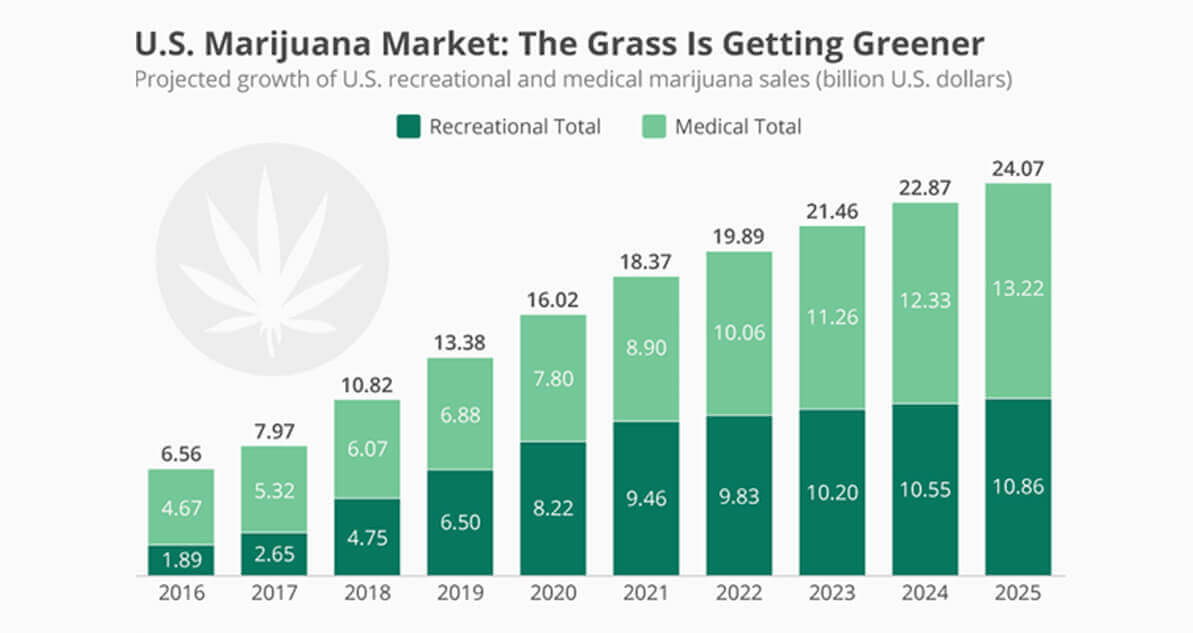 Source: The Cannabis Industry Annual Report
Why Saying Yes to Cannabis Vaporizers?
Inhaling cannabis through vaporizers provides promising medicinal benefits among short-term and lifetime cannabis users. Lanz et al. conducted an in vitro validation study to assess the health outcomes of five commercial vaporizers using cannabinoids (CBD) and tetrahydrocannabinol (THC) cannabis. The study determined that cannabis vaporizers generate high levels of tetrahydrocannabinol that are valuable in managing migraines, insomnia, severe pain, and other neurological disorders. The high amounts of tetrahydrocannabinol in vaporized cannabis also provide significant therapeutic benefits in victims suffering from chronic diseases such as brain tumors, arthritis, and cancer. Nonetheless, THC causes dependency; hence, there is a growing interest in medicinal cannabis, such as vaporized cannabis, which releases active non-dependence cannabinoids (Lanz et al.). Subsequently, the high amounts of CBD and THC in vaporized cannabis contain neuroprotective and anti-inflammatory properties crucial in medical treatment to relax muscles and relieve headaches. Lanz et al. suggest that vaporized cannabis provides pharmacokinetic properties and quick and efficient absorption after oral vapor administration, stimulating the healing process. Therefore, vaporized cannabis presents a viable method for the safe, rapid, and effective administration of medicinal cannabis to treat health complications and attract a larger clinical market.
Advantages of Cilicon Vaporizer
Cannabis users and market critics speculate that the biggest risk of smoking cannabis is the smoke itself. The combustion process releases disease-causing chemicals similar to tobacco smoke. Since vaporized cannabis is smoke-free, it can reduce health risks, such as lung, pulmonary and upper airway complications, promoting its use in the medical sector. Lanz et al. postulate that vaporizers have a better taste, healthier effect and are more satisfying than traditional vaping techniques. Vaporizers heat cannabis to over 200 degrees Celsius, releasing cannabinoids in a fine mist providing relief to anxiety, pain, nausea, and inflammation (Lanz et al.). The heating process converts more THC into vapor than smoking providing a quicker and cleaner high to relieve underlying conditions. This is where Cilicon+ products distinguish themselves differently from others due to the core technology of ceramic heating systems solely developed by the Cilicon R&D team, which are Microfeel® and Matrex™ Ceramic Technology. This tiny Matrex™ ceramic heating core can withstand high-temperature dissolution, 1200°C high sintering, 20000+ various tests, and other multiple processes before it is revealed to the public. Both Matrex™ and Microfeel ® Ceramic Technology are designed to provide cannabis vaporizers a purer, safer, and more refreshing cannabis vaping journey with the ability to retain the fragrances and flavors of terpenes into your heart content while achieving consistency in taste to the very last puff.
The Rising Trend of Cannabis Vaporizers

The method of cannabis administration determines its efficiency for medical purposes. Jones et al. assessed the rate of vaping among 482 college students, whereby 29% of the sample group reported a high lifetime rate of vaping cannabis (1). Further, the researchers conducted a Facebook survey on cannabis users aged 18-90, and 61% reported cannabis vaping (2). In a national cannabis vaporizer consumer survey, 9.9% of cannabis consumers aged 18-50 years reported using cannabis vaporizer at least once in their lifetime (Jones et al. 2). In addition, Jones et al. suggest that vaping is high in states with medical marijuana laws, promoting its use as an effective opioid alternative (5). The study also points out that young males from high-status families vaped cannabis more often than women and lower socioeconomic individuals, providing the largest market in the US. Therefore, the study indicates that vaping cannabis provided a new and safer experience for young consumers and resulted in higher and regular private and institutional use of cannabis.
Cannabis users who utilize vaporizers are conscious of their health outcomes and are determined to eliminate the dilapidating effects of smoking. Jones et al. (5) emphasize that smoke is harmful, particularly to the respiratory system; therefore, controlled vaping helps the youth abstain from risky substances, become mentally healthy, and be more diligent. Vaping cannabis can reduce respiratory symptoms associated with smoking and alleviate cannabis and tobacco dependence (Jones et al. 2). In addition, Jones et al. assert that cannabis vaporizers are essential because they are convenient and discreet when used in public (1). Vaporizers produce less pungent odor, and the liquid state makes the product less conspicuous to avoid public ridicule and labeling. As such, users combating health complications such as anxiety and depression will be more comfortable using vaporizers in public. Moreover, cannabis vaping is more appealing to youths than cannabis smoking because youths perceive vaping as a digital alternative, expanding its market value.
Cannabis vaporizers produce toxin-free vapor reducing upper airway, lung, and digestive complications. Earleywine and Barnwell analyzed self-reports of 6,883 cannabis and tobacco users from three drug reform organizations. As the findings suggest, vaping cannabis predicted fewer respiratory and digestive complications such as throat and lung cancer. The study points out that smoking leads to severe and long-term respiratory complications. According to Earleywine and Barnwell, smoke contains gaseous particles and other particulate substances with potential lung and upper airway complications.
Additionally, Earleywine and Barnwell observe that fewer vaporizer users report respiratory complications compared to smokers. As opposed to smoking, cannabis vaporizers heat dried cannabis plants releasing active cannabinoids free from the toxins and smoke, making it safe among all age groups. The recurrent data also revealed that vaporizers reduced the rate of respiratory symptoms such as tightness, phlegm, and cough. Therefore, enhancing the safety, affordability, and quality of cannabis through embracing vaporizers will promote consumer wellbeing popularizing the apparent clinical benefits of medicinal cannabis.
Cannabis vaporizers can eliminate respiratory complications equal to complete smoking cessation. Van Dam and Earleywine assessed 25 cannabis users with respiratory symptoms after prolonged cannabis smoking. The sample group followed a one-month cannabis vaporizer program and reported the severity of the respiratory symptoms. The results indicate that 12 participants did not develop new respiratory complications and initial symptoms improved significantly (Van Dan and Earleywine 511). The study also demonstrates that, after a month of cannabis vaporizer utilization, the sample group showed considerable improvement in health outcomes, equivalent to long-term smoking cessation (Van Dam and Earleywine 512). The outcomes suggest that cannabis vaporizers have the potential to minimize respiratory complications. According to Van Dam and Earleywine, the vaporizer releases cannabinoids in a vapor without respiratory irritants such as smoke. As a result, there are meaningful improvements in respiratory function upon using cannabis vaporizers. Therefore, the vaporizer is a harm reduction device with extensive market prospects to ensure efficient administration of medicinal cannabis.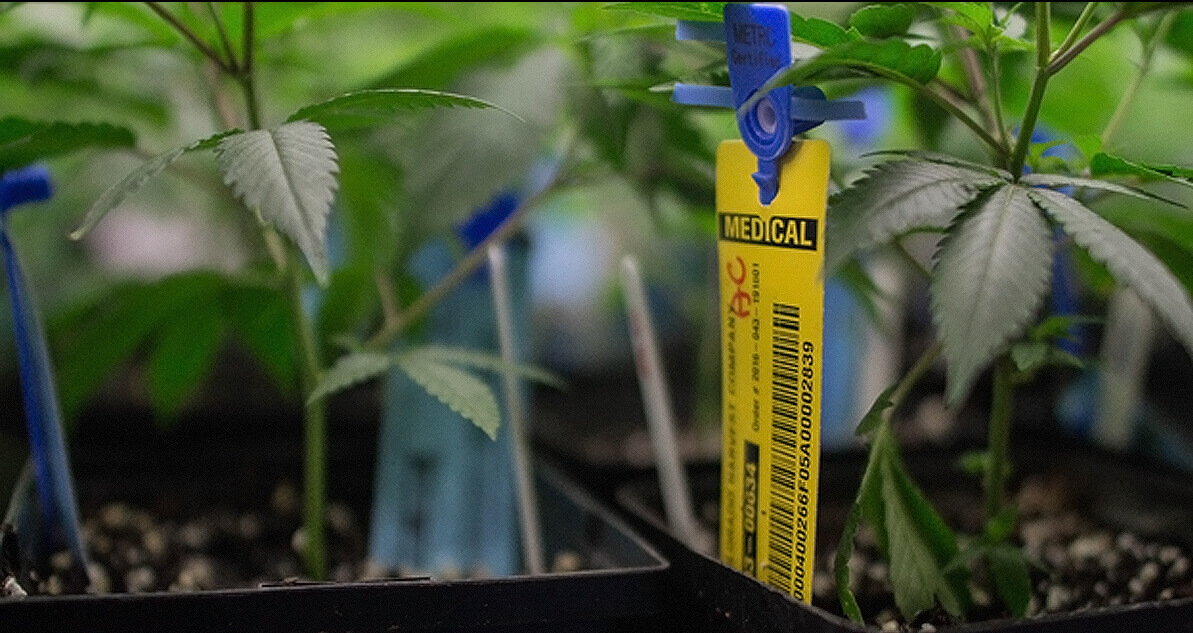 The Awakening of Medicinal Cannabis Market
Largely, it is undeniable that vaping cannabis with cannabis vaporizers results in lower respiratory symptoms such as cough and phlegm when using vaporizers than traditional smoking. Cannabis vaporizers provide neurological relief while avoiding further respiratory complications and preventing toxic combustion products in smoke. Hence, cannabis vaporizers have gained popularity and acceptance, increasing the cannabis industry's market value and medical demand. Cannabis vaporizers are efficient in decarboxylating cannabinoids releasing neutral and nontoxic cannabinoids into the vapor. In essence, cannabis vaporizers provide an effective application technique for the safe and efficient use of medicinal cannabis and other cannabinoids to prevent health complications such as digestive and respiratory diseases. Hence, there has been increased interest in the medicinal use of cannabis in treating and alleviating health complications such as pain and depression. Thus, the Cilicon R&D team is committed to developing steady and innovated products that fulfill the need for an alternative, high-quality, affordable, and efficient cannabis consumption model because conventional smoking is ineffective for controlled medicinal functions.
References
(1)Earleywine, Mitch, and Sara Barnwell. "Decreased respiratory symptoms in cannabis users who vaporize." Harm Reduction Journal, vol. 4, no. 1, 2007, p. 11. https://doi.org/10.1186/1477-7517-4-11
(2)Jones, Connor B., et al. "Prevalence and correlates of vaping cannabis in a sample of young adults." Psychology of Addictive Behaviors, vol. 30, no. 8, 2016, pp. 1-7. https://psycnet.apa.org/doi/10.1037/adb0000217
(3)Lanz, Christian, et al. "Medicinal Cannabis: In Vitro Validation of Vaporizers for the Smoke-Free Inhalation of Cannabis." PLOS ONE, vol. 11, no. 1, 2016, p. e0147286. https://doi.org/10.1371/journal.pone.0147286
(4)Richter, Felix. "Infographic: U.S. Marijuana Market: The Grass Is Getting Greener." Statista, Statista Infographics, 4 Jan. 2018, https://www.statista.com/chart/12406/us-marijuana-market-the-grass-is-getting-greener/.
(5)Van Dam, Nicholas T., and Mitch Earleywine. "Pulmonary function in cannabis users: Support for a clinical trial of the vaporizer." International Journal of Drug Policy, vol. 21, no. 6, 2010, pp. 511-513. https://doi.org/10.1016/j.drugpo.2010.04.001