Partial cannabis legalization in the United States has affected the marijuana industry in several ways. According to Kaplan, it has changed how cannabis companies operate and how customers purchase and consume their products. An innovation that has become increasingly popular is the use of tabletop vaporizers, portable vaporizers, and vape pens or "hash oil" pens. Despite the decline in the vape share of the marijuana market in 2020, the vapor pen market sector grew at almost half the pace of overall sales for cannabis products (Schaneman 2021). Consequently, the increasing demand for vaporizers, flavorings, and other accessories has made marijuana use a lucrative business as consumers shift from the traditional consumption to the use of vape pens, making it a multi-billion-dollar industry. Undoubtedly, more companies enter the market with more sophisticated, innovative, and sometimes unsafe products that make the sustainability and growth of the sector doubtful. Hence, Cilicon is ready and committed to serving the cannabis wholesalers and consumers with the most innovative and safer vaping alternatives by developing pharmaceutical practices, laboratory-grade equipment, and safety features to satisfy the customer demand for vaping devices.
Is Cannabis Vaporizer Demand Increasing?
Consumption of marijuana has increased steadily, especially as more states legalize it for medicinal and recreational use. The cannabis markets in California, Nevada, Colorado, Washington, and Oregon registered a 20% increase in vape pen sales, from $1.5 billion in 2019 to $1.8 billion in 2020 (Schaneman 2021). Felton argues that the surge in cannabis vaporizer sales is because marijuana is the best anti-depressant available in the market: it helps to cure neurological disorders, depression, anxiety, and stress. Consequently, the legalization of cannabis use has increased the sales of handheld marijuana vaporizers as more people move away from using traditional smoking methods to vaping. For this reason, Felton forecasts a 6.2% growth rate for conduction vaporizers from 2021 to 2028 since they are non-toxic and provide a better effect than conventional smoking. Therefore, the demand for cannabis vaporizers is at an all-time high and is expected to increase in the future, especially as consumers in new geographical markets such as Illinois, Michigan, Massachusetts, Arizona, and Maryland embrace vaping.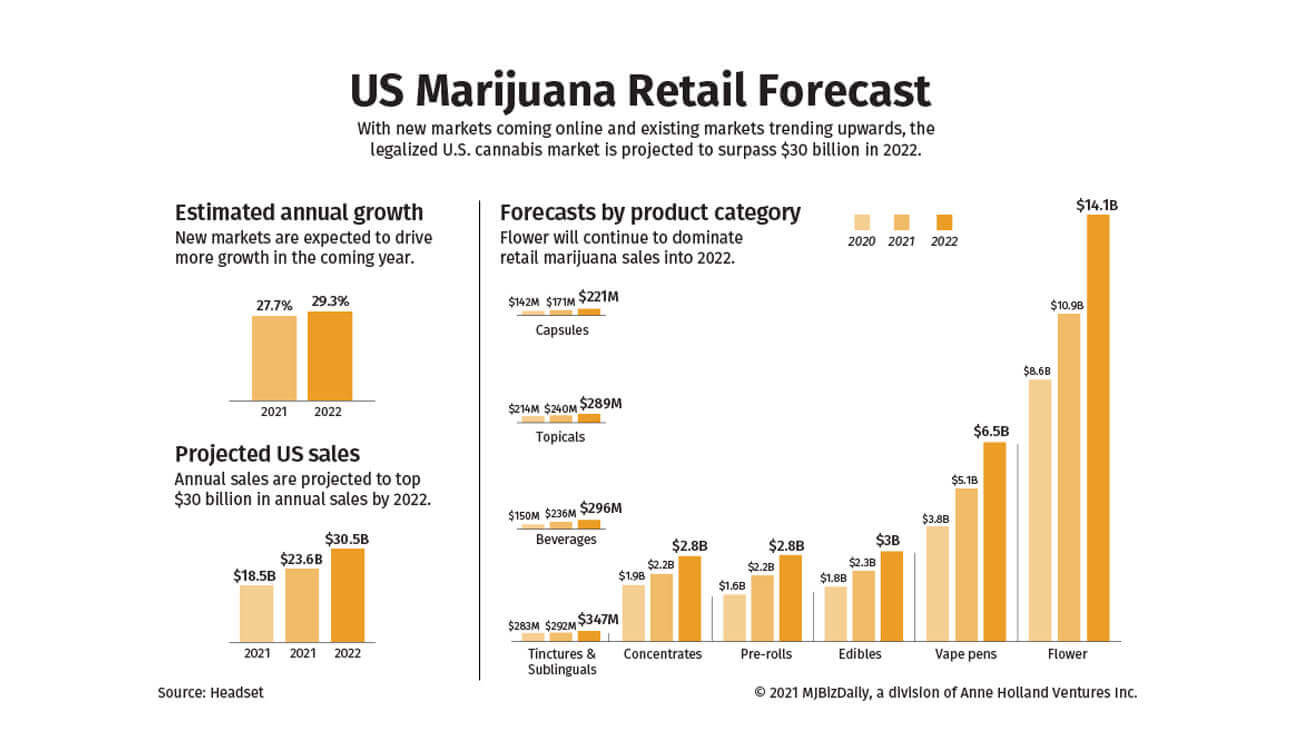 The Unseen Bullion in Vape Device Market
The U.S. cannabis vaporizer market includes the distillate cartridges, live resin cartridges, oil disposables, distillate disposables, and oil cartridges segments. The vape industry has seen a few noticeable shifts in market share, especially when it comes to the type of vaporizer used and the capacity of content the devices can hold. According to Kaplan, the distillate cartridges segment accounted for 63% of total vape product sales in 2019, while live resin cartridges were a paltry 7% of the vape market with $49 million in sales for the period. However, the live resin cartridge segment recorded sales of $142 million in 2020, increasing its market share to 17% of the vape market (Kaplan 2020). Similarly, the market share of live resin disposables increased from $1 million to over $6 million in sales between early 2019 and the first five months of 2020 (Kaplan 2020). Therefore, the dominant products in the vape market are distillate cartridges and conduction vaporizers, whose popularity and market share are likely to increase in the future.
Let's dive into the market share in recent years based on the total of the total vaporizer devices sold by major industry players in 2019, 65% were 500mg (0.5g) units while 24% were 1000mg (1.0g) cartridges, pods, and disposables, representing 4.39 million units (Kaplan 2020). However, in 2020, 500mg unit sales dropped to 58% of the total vape market while 7 million units of 1000mg devices were sold, representing a market share of 31% (Kaplan 2020). The statistics suggest that consumers of vaporizer products are shifting their preferences to higher capacity devices, a trend that is likely to continue and impact consumer choices in the future.
Investors in the Cannabis Supplier Sector and their Reasons for Investing
Despite the barriers to entry into the cannabis vaporizer industry, several companies, and private investors are getting into the industry due to the profit potential. Most of the companies investing in the industry are large companies with hefty research and development budgets. The major players in the handheld marijuana vaporizers market are DaVinci, PAX Labs, Inc., Ghost Herbal Concepts Ltd., Vapium, STORZ & BICKEL, Apollo AirVape, Grenco Science, Inc., Vape Elevate among other domestic and global players ("Global Handheld"). Although the companies have differing missions and business models, their investors' hope for profit, increase in shareholder value, and dividends is the underlying reason behind their investment. According to Kaplan, the cannabis vape industry sold 18 million vape units between January and May 2019, recording $678 million in sales. In the same period of 2020, vape manufacturers sold 22 million total units, recording $817 million in industry sales — a 20.5% growth (Kaplan 2020). The sales increase between 2019 and 2020, the increasing demand for vaporizers in the future, and the prospects of the exponential growth of the cannabis vaporizer industry is the reason companies are investing heavily in it.
Sustainability of the Vape Industry
The sustainability of the vape industry is questionable, especially with the recent reports of injury and death caused by unsafe products in the market. The emergence of do-it-yourself manufacturers and garage inventors has led to the development of unsafe and untested products, causing concern to existing and prospective consumers. Despite the recent negative publicity, vaporizing is still a healthier alternative to smoking, and cannabis extracts will remain an important product that will only witness an increase in consumer demand for vaporizers. However, for the vape industry to be sustainable, it is important that the Food and Drugs Administration (FDA) monitors and licenses all producers to guarantee consumers that all the products they consume are safe and free from contaminants.
While manufacturers of vaporizing devices struggle to maintain a competitive advantage by developing more sophisticated, innovative, and user-friendly devices, they should consider a few possibilities for creating sustainability in the cannabis manufacturer industry like Cilicon, and those are:
1.Embrace pharmaceutical practices in developing vaping products to guarantee that they are safe for human consumption.
2.Design and develop laboratory-grade equipment tested in all possible conditions to guarantee safety and prevent injury.
3.Ensure their manufacturing practices remain sustainable, are environmentally friendly, and satisfy the customers' expectations for vaping devices.
Why Choose Cilicon as the Primary Cannabis Vaporizers' Supplier?
The cannabis vaporizer industry in the United States is expected to remain vibrant, especially with the expanding medical marijuana market. The demand for vaporizing devices will increase in emerging markets like Illinois, Michigan, Massachusetts, Arizona, and Maryland, and more people will prefer to use distillate cartridges and conduction vaporizers. Furthermore, the sales growth and profitability witnessed so far are likely to increase and lure more players into the industry. In this regard, Cilicon is committed to being one of the leaders in the cannabis manufacturer sector to provide vital support to our fellow cannabis wholesalers, distributors, and partners who are striving to deliver the best products to cannabis vapers. Cilicon always ensures all products correspond to FDA requirements and practices ethics in designing and developing vaping products to guarantee safety and environmentally friendly without comprising the fashion and quality to satisfy the customer's expectations.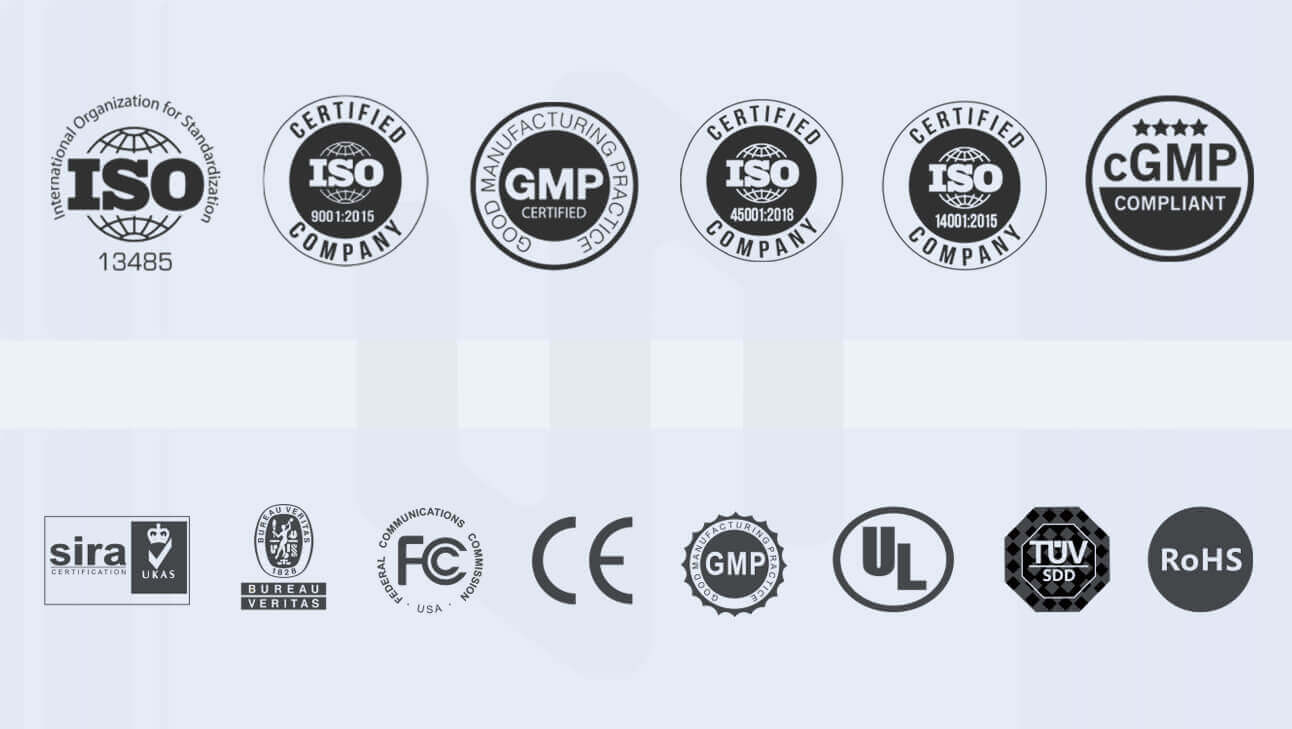 Works Cited
"Global Handheld Marijuana Vaporizers Market Rising at 23.11% CAGR Due to Herb Sale Legalization." Data Bridge Market Research, www.databridgemarketresearch.com/news/global-handheld-marijuana-vaporizers-market. 
Felton, Calif. "Handheld Marijuana Vaporizer Market Size to Reach $15.77 Billion By 2028 Owing to Its Benefits in the Treatment of Neurological and Mental Disorders: Million Insights." Million Insights, 11 May 2021, www.prnewswire.com/news-releases/handheld-marijuana-vaporizer-market-size-to-reach-15-77-billion-by-2028-owing-to-its-benefits-in-the-treatment-of-neurological-and-mental-disorders–million-insights-301288146.html. 
Kaplan, Dave. "The Greentank U.S. Cannabis Vape Market Report: COVID-19 Edition." Greentank, 6 Aug. 2020, www.greentanktech.com/news/the-greentank-u-s-vape-market-report-covid-19-edition/. 
Schaneman, Bart. "Marijuana Vape Market Share down as Manufacturers Work to Rebuild Consumer Confidence." MJBizDaily, 4 Feb. 2021, mjbizdaily.com/marijuana-vape-market-share-down-as-manufacturers-work-to-rebuild-consumer-confidence/.