Cilicon launched its first recharging disposable vaporizer with 1ml, SOLO 1, due to our market insight that the Delta-9 cannabis market may appear to have higher demand and larger capacity than ever. Unexpectedly, Delta 8 market soon appeared a product trend on more payloads. Based on that, the SOLO Series soon became an overlapping blessing opportunity as it is also an ideal disposable vape pen for Delta-8 THC suppliers since the product features are consistent with the Delta-8 THC product developing trend. This accident of Cilicon's flagship on SOLO 1 has become a mind-blowing success due to its product insight that manage to catch up with the Delta-8 THC trend.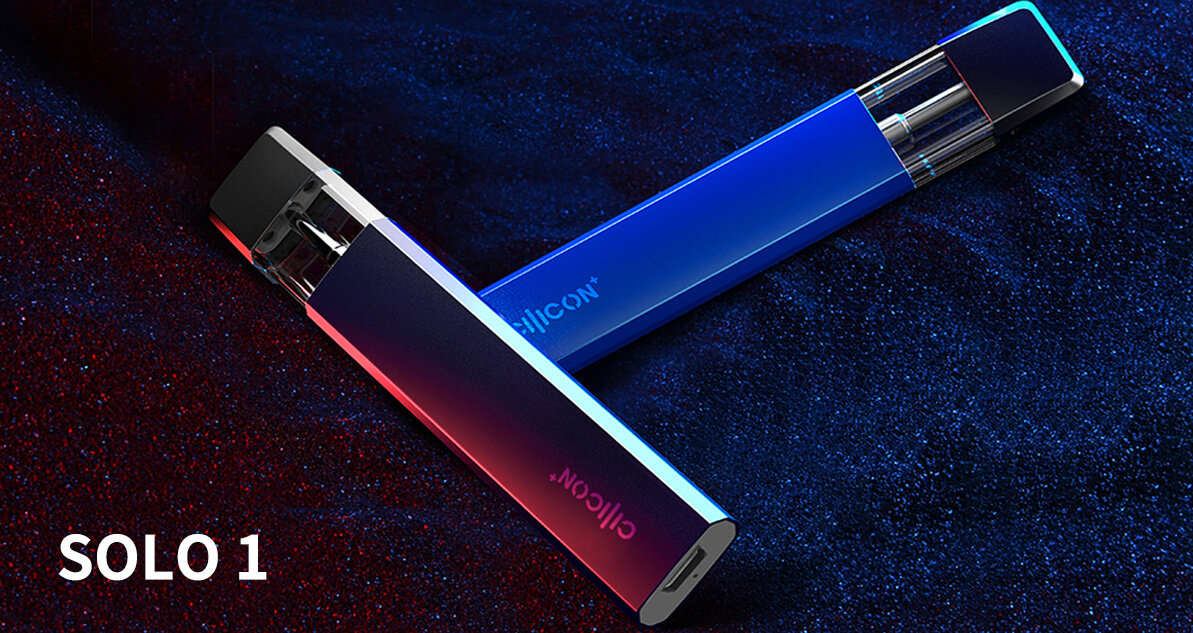 With its unique product appearance differed from traditional pen-like look, integrated industry design, outstanding atomizing performance, and multiple capacity customization, SOLO Series has gained popularity in the cannabis market. Cilicon has successfully sold millions of units of SOLO up to this date. It all begins with the legal area's vagueness that distinguishes both Delta 8 and Delta 9 Both derive from the Sativa and can be perceived as the chemical cousin, but the difference is the amount of THC concentration in it. Delta-9 THC offers the same high effect with higher intensity for cannabis consumers than Delta-8 THC. However, the contributing factors behind Delta-8 THC increasing popularity are listed as below:
1. Legality
As mentioned before, U.S. Constitutional law has left a grey area regarding the legalization of Hemp and Marijuana that creates a green light on Delta-8 THC. Hemp was legalized in 2014 by President Obama in certain states and became officially legalized on the federal level in 2018 as long as it contains no more than 0.3% concentration of THC. This creates an opportunity for cannabis entrepreneurs to kickstart hemp-related businesses, including the seeds and all derivatives, extracts, cannabinoids, isomers, acids, salts, and salts of isomers if it is within the legalized percent concentration of THC. Hence, the Delta-8 THC came in and positioned itself as the legalized cannabis vape and is often marketed as legal across the state due to the ambiguities of the 2018 Farm Bill that legalized hemp production, making it the fastest-growing cannabis product segment. It contains less than 0.3% THC, which falls under hemp rather than marijuana regulations.
2. Affordability
The legal fate of Delta 9 THC has been directly affected due to Marijuana's regulation, unlike Delta 8. Any amounts over 0.3% are not legal at a federal level, and the state level depends entirely on their local marijuana laws. Hence, the legalization of Delta 8 makes it accessible everywhere on both brick-and-mortar shops and online cannabis retailers. Many cannabis retailers started selling Delta 8, and the hype came in the year 2020 when Delta-8 THC gained momentum from the plummeting price of CBD due to oversupply and other issues (Peltz, 2021). This supply over demand scenario coupled with no extra hidden licensing or logistic cost makes Delta 8 an affordable product in the cannabis market. Cannabis users from different income backgrounds can enjoy smoking a puff with their all-time favorite Delta 8!
3. Accessibility
Most Delta-8 THC products are being sold online, similar to disposable cannabis vaporizers. As a result, it is a highly accessible cannabis product for cannabis consumers who prefer to get their products in a jiffy! It facilitates the shopping and vaping journey of cannabis users, leaving a hassle-free experience! Cannabis users can shop their favorite Delta 8 anywhere without logistic concerns, and products are allowed to ship within the country with no legalization concern nor extra licensing cost. Moreover, the online marketplace has become a trendy shopping platform for many young ones nowadays. Buying a Delta 8 has become a new adventure for many young people who have just reached their legal age want to explore their first vaping experience without being judged by external parties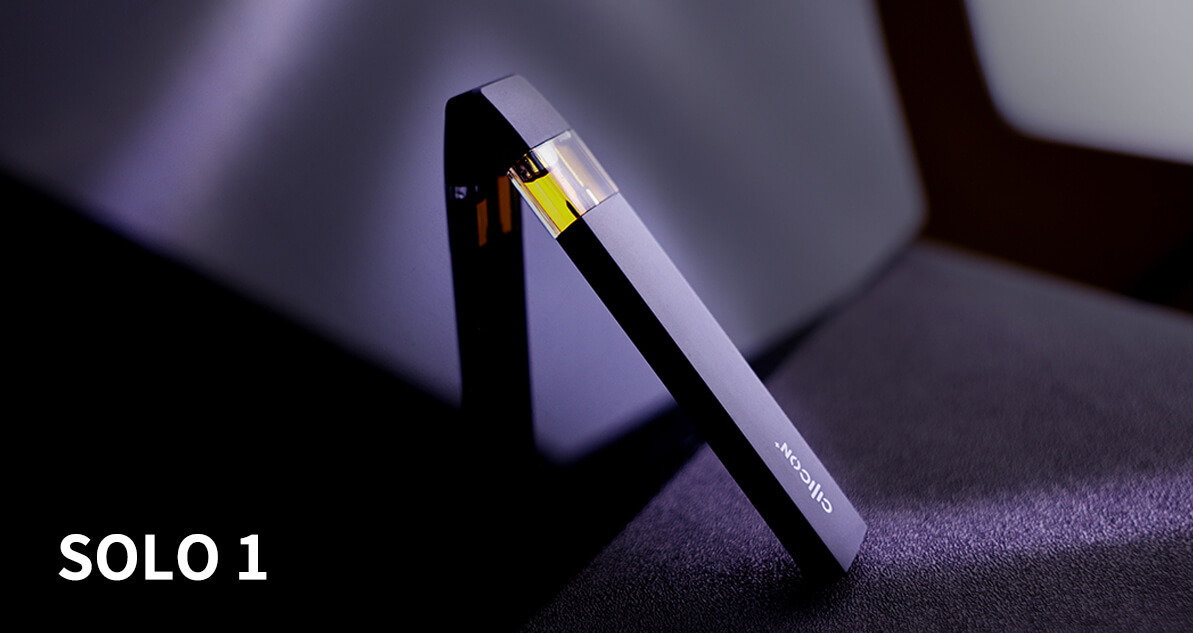 4. Daily Usability
The Delta-8 THC is particularly suitable for a newbie who wants to try THC products but unable to visualize the experience. As stated earlier, the psychological potency of Delta-8 THC is lower than Delta-9 THC due to less THC concentration. It is vital to realize that the more potent Delta-9 THC could cause anxiety for some cannabis consumers. Thus, cannabis users who suffer from the side effects of Delta 9 that bring anxiety or have a lower tolerance to THC will switch to Delta 8 products. Moreover, cannabis vapers do not always prefer to get high or stoke whenever they inhale their THC cannabis vape. Therefore, Delta-8 THC is a suitable alternative when cannabis vapers want to experience the therapeutic benefit while remaining awake and sensible. It is just enough dosage to enhance vapers' focus and energy and keep them awake during the day.
Hill (2022) surveyed 521 cannabis consumers from 38 states in the US. The respondents stated that Delta-8 THC promotes relaxation, pain relief, and euphoria and experienced little to no cannabis-associated negative impact like paranoia and anxiety throughout the day when they consume Delta-8 THC. More than half of the participants even admitted the health benefit of Delta-8 THC can treat conditions like stress, depression, panic attack, bipolar disorder, and chronic pain. Based on this result, Delta-8 THC offers most of its consumers a therapeutic effect, making it an ideal daily use of THC vape as a suitable alternative to other vapes.
5. Resemblance of E-Cigarette
510 Thread Vape is the most iconic cannabis vape in the legalized market. It shares a similar exterior design resemblance to e-cigarettes, making consumers often mistake it as another nicotine product. Many vapers often hardly distinguish between e-cigarettes and certain cannabis products. Therefore, the distribution channels of the Delta-8 THC disposable cannabis vape and e-cigarette often overlap with each other in retail stores, gas stations, and grocery stores. Yet, this misconception becomes a blessing opportunity in disguise for the Delta-8 THC disposable cannabis vapes distribution channel and attracts potential consumers to smoke their first puff with Delta-8, abandoning the longstanding e-cigarette culture. No expert and professional cannabis experience are needed. It creates an easier acceptance of the Delta-8 THC to new vapers due to milder psychological impact and convenient disposability, making it fun for casual and socializing purposes.
Some Delta-8 THC Disposable Cannabis Vaporizer Brands You Should Know!
Some Delta-8 THC disposable cannabis vapes in the market have gained the title of the market leader, and Cilicon curated some of the most well-known Delta-8 THC disposable cannabis vape brands you should know!
·3Chi
The disposable cannabis vape contains 95% Delta-8 THC oil powered by a CCELL high-performance battery. The brand promises the best possible performance and taste for all cannabis vapers. The 3 Chi Delta 8-THC disposable cannabis vape comes in 1 ml capacity (3Chi, n.d.).
·Delta Effex    
This California-based company markets their cannabis vape as all-natural and plant-based. They also pre-provided cannabis consumers with a lab test from a third-party vendor to verify their Delta-8 THC oil's purity and potency (Juneau Empire, 2021). The disposable cannabis vape is also rechargeable and comes in 1 ml capacity (Vape Mark Down, n.d.).
·Diamond CBD
Through an uploaded sheet of a lab test result, the Diamond CBD is transparent regarding the ingredient they choose for their Delta-8 THC oil. They guaranteed that all their products, including their Delta-8 THC oil disposable cannabis vaporizers, contain only pure and unadulterated contents with no synthetics. The brand also promotes ten times the 'buzz factor' with the 920 mg of Delta-8 THC content of their Delta-8 THC disposables (Diamond CBD, n.d.).
·Exhale Wellness
The Delta-8 THC disposable vape pens from Exhale Wellness are not added with chemical additives and artificial flavoring. The flavor comes only from the terpene profile of the Delta-8 THC. The device also comes with a charging port and contains 940 mg of Delta-8 THC. Like other previous brands, they also show the lab test for the ingredients of their vaping oil. Moreover, they also use a cruelty-free stamp and money-back guarantee for product safety (Exhale Well, n.d.).
Cilicon Legacy with Delta-8 THC
The competition between Delta-8 THC vape brands is inevitable to create the best experience for all cannabis consumers. Moreover, the affordability, legality, accessibility, and everyday usability make it even more attractive for the young ones to get a Delta 8 and all working professionals, which opened a huge opportunity for cannabis retailers. Along with these leading brands, Cilicon launched the SOLO 1 disposable cannabis vaporizer in 2020. Currently, the SOLO Series consists of four different capacities: 0.5mL, 1mL, 2mL, and 3mL. Additionally, 2mL capacity has two actuated systems: breathing-actuated and button-actuated systems.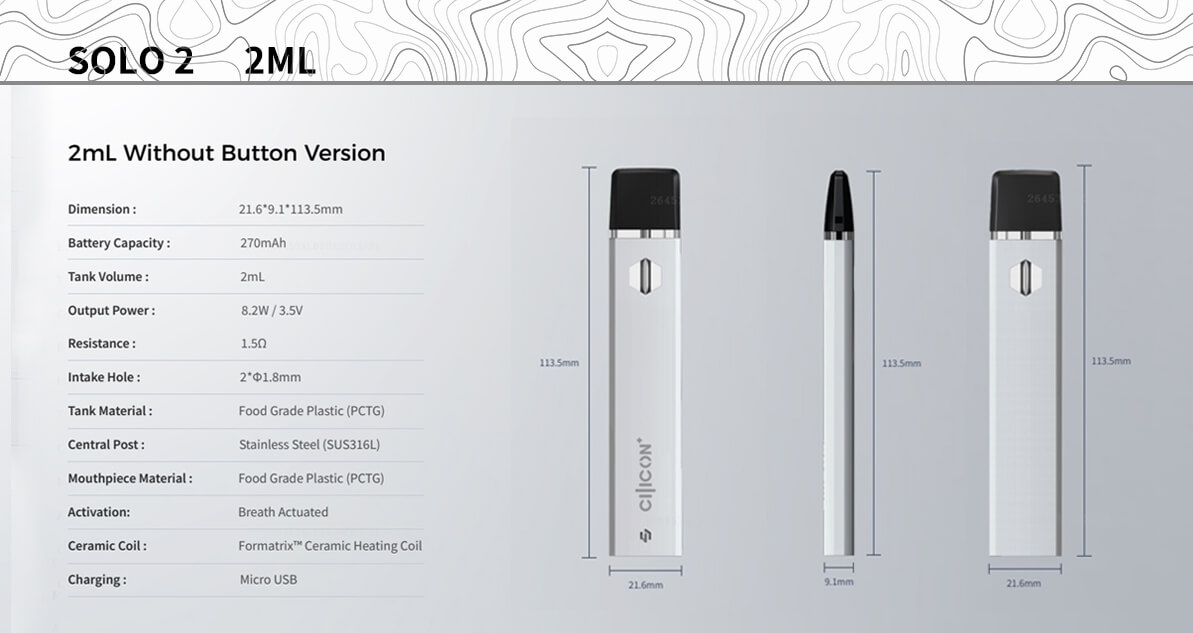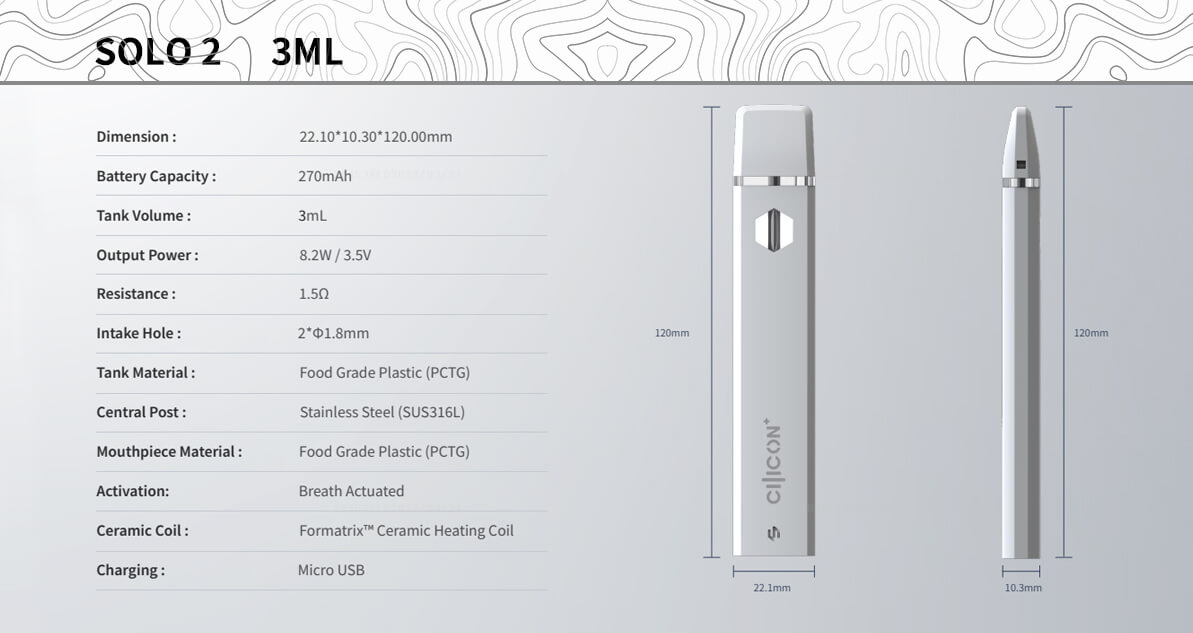 Why Cilicon provides four options of capacity while the other brands do not even have it? Cilicon believes that cannabis consumers should be able to choose the most appropriate THC disposable cannabis vape based on their needs. Thus, Cilicon's SOLO series possess four options of capacity ( 0.5mL, 1mL, 2mL, and 3mL) and rechargeability. With the small capacity of 0.5 ml, cannabis consumers can try out different tastes and jump onto the larger capacities when ready. SOLO's rechargeability allows cannabis consumers to enjoy 2ml of Delta-8 THC without being afraid of running out of battery! With its industrial design, various capacity choices, reliable atomizing, and battery performance, the SOLO series is a market-proven flagship product that has sold millions of units in 2021.