The intense competition in the cannabis vaporizer industry requires every vape device manufacturer to produce and distribute excellent quality products for all vapers to survive invincibly in the cannabis market. The 510 thread cannabis vaping device is one of the leading and most common cannabis vaporizers, using standardized 510 thread connectors. Specifically, 510 threads were developed based on early models that met these specifications of a screw with 10 threads spaced apart at .5 mm intervals. With these 510 threads connectors, the 510 thread cannabis vaporizer's battery and cartridge can easily pair across different brands. The live resin cartridge has stood out amongst abundant types of 510 thread cartridges in maximizing consumers' cannabis experiences. Let's dive in to understand how this type of 510 Thread Cartridge differs from the others like BHO cartridge.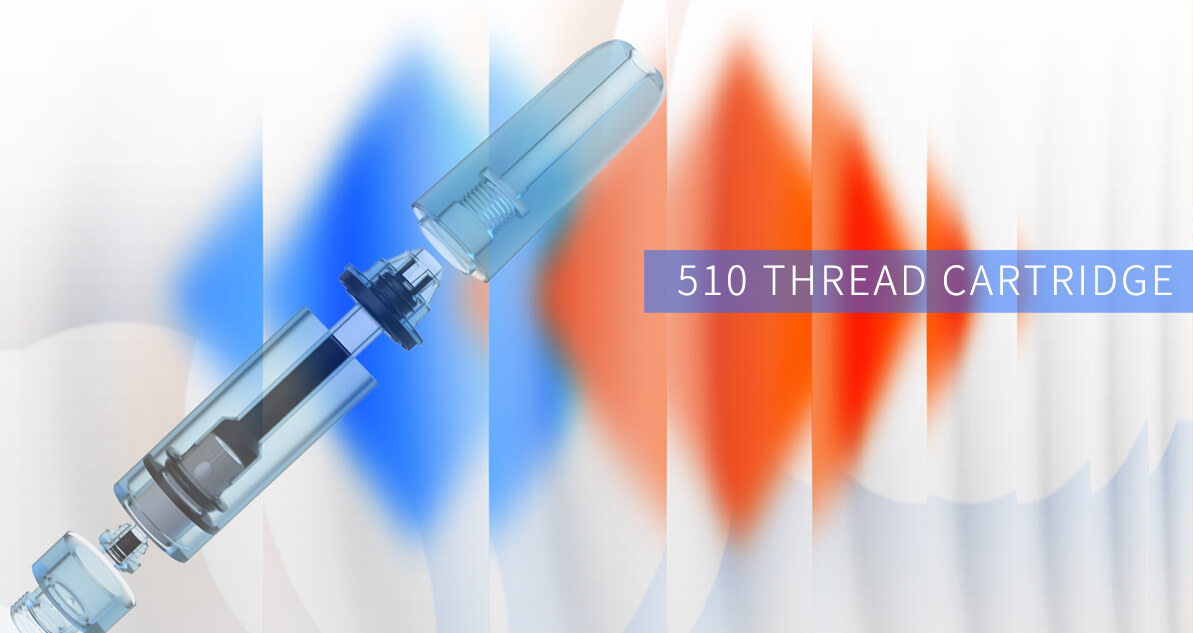 Refer to: What You Should Know About Live Resin Cartridges
Popular Types of 510 thread Cartridges
While the first form of marijuana——cannabis flower began dominating the North American market, cannabis vaporizers were introduced swiftly, taking up more and more market share. This makes cannabis vaporizer manufacturers paid more attention to the development of cannabis vape devices like THC cartridges, disposable vape pens, portable cannabis vape. 510 thread cartridge has been the best-selling type since Joytech first coined the term 510 thread cartridge to describe its eGo-T e-cigarette battery package in the late 2000s. Since then, various designs of 510 thread cartridges have been introduced to the market.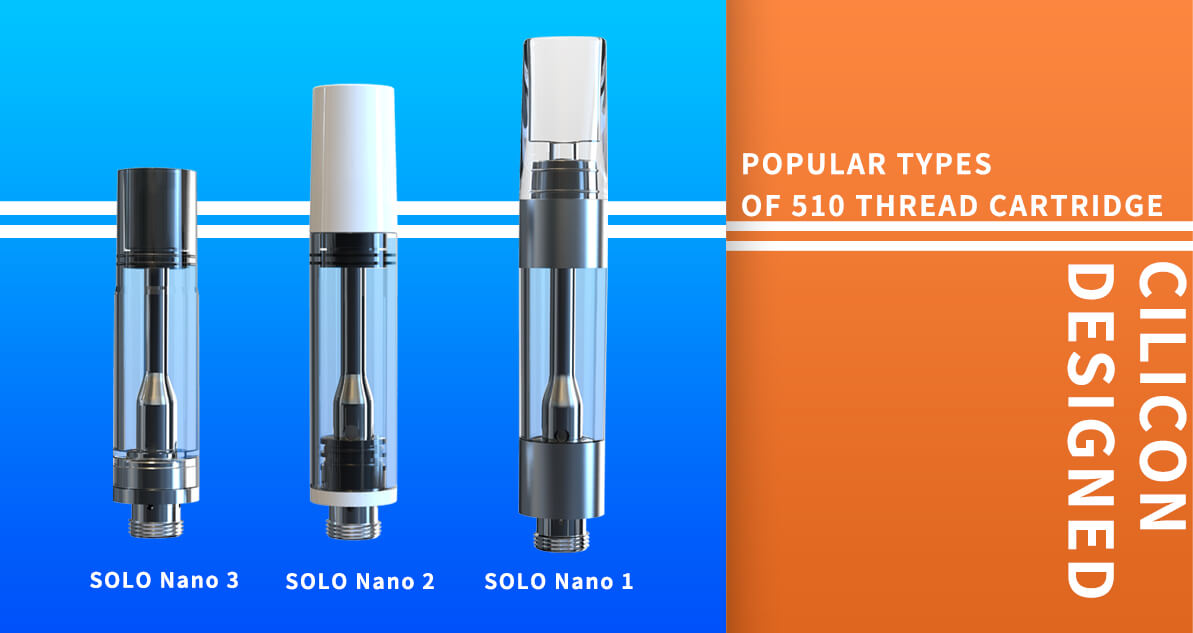 Classic 510 Thread Cartridge
Classic 510 thread cartridge refers to the first type of 510 thread cartridge with a slim and lightweight design, sharing similar width with the average cartridge. CCELL, AVD, and Cilicon® SOLO Nano1 are some popular examples of classic 510 thread cartridges which are compatible with standard 510 thread cannabis vaporizers. The first "C" in "CCELL" means Ceramic, and AVD stands for Advanced Vaping Device. These terms demonstrate the basic characteristics of a classic 510 thread cartridge. Cilicon® also develops ELEV Nano2 and equip the most cutting-edge technologies and features like Glass Oil Tank, Microfeel® Technology, Snap & Screw in Design, and Ceramic Mouthpiece in this product. Cilicon® ELEV Nano2 facilitates the creation of unparalleled user experience with its incredibly easy snap-in mouthpiece to make the capping process easy and breezy. The ELEV Nano2, similar to other 510 thread cartridge, can ensure that your vaporizers and cartridges are compatible almost in any circumstances.
All Glass 510 Thread Cartridge
Inheriting the features of classic 510 thread cartridges, all glass cartridges enhance the consumers' cannabis vaping experience by preventing the oil from contacting and reacting with metal or plastic tank surface. Bbtank is one of those products that eliminates the consumers' concern about the heavy metal test. These all glass 510 thread cartridge mostly have simple design, allowing any cannabis vaper to use with ease and minimal set up. These products are small in size, and thus portable to be carried to anywhere. The only concern with this 510 thread cartridge type is durability, as glass is more fragile than metal.
Full Ceramic 510 Cartridge 
Full ceramic 510 cartridges utilize ceramic coils to heat and vape cannabis oil or cannabis extract. Based on similar principle with all glass cartridge type, full ceramic 510 thread cartridges utilize wickless and coil-less design with ceramic pole and tip with glass tube. Avoiding unhealthy chemical reactions between oil and metal can provide a safer and healthier cannabis experience for consumers The internally heated ceramic element creates consistent temperatures and ceramic mouthpiece brings vapers clean feelings. CCELL and O2VAPE are two popular full ceramic 510 cartridges currently offered on the market.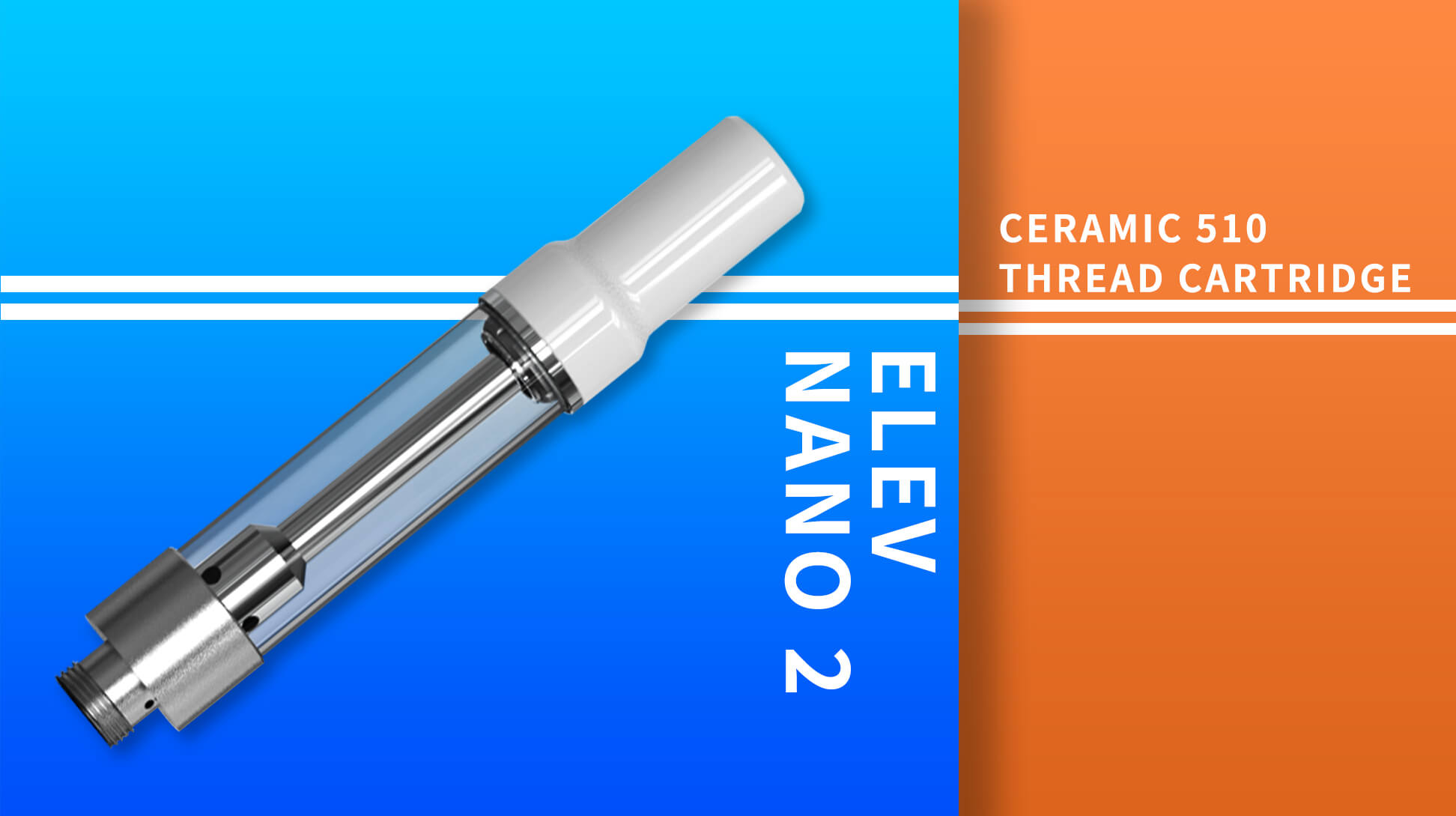 Other Designs of 510 Thread Cartridges
Aside from the popular types of 510 thread cartridges described above, 510 thread cartridges have been designed differently. The variances could originate from the different voltages suggested to suit 510 thread batteries' output, from 3.7 V to 5V. Also, the cartridges could be designed for single instant use or rechargeable and reusable purposes. Some 510 thread cartridges have customizable intake hold and resistance to work with multiple cannabis concentration formulas. These variances when combined differently have created a diverse range of 510 thread cartridge types for the cannabis consumers' selection.
Differences Between Live Resin Cartridge and BHO Cartridge
Extraction method: Live resin is made by using fresh-frozen cannabis plants, while BHO is made by using butane as a solvent to extract the cannabinoids and terpenes from the plant material.
Terpene profile: Live resin cartridges tend to have a more complex and diverse terpene profile, as the fresh-frozen plants retain more of their original aroma and flavor. BHO cartridges can have a more limited flavor profile, but may have a higher concentration of THC.
THC concentration: BHO cartridges typically have a higher concentration of THC than live resin cartridges.
Outstanding Features of Live Resin Cartridge
Similarities of Live resin cartridge and BHO cartridge
Live resin cartridge has some similarities with BHO Cartridge, Both can be used with vaporizer pens or vape pens, be convenient for discreet and easy use.Both should be purchased from reputable sources and used in accordance with local laws and regulations, Both can offer a potent and enjoyable cannabis experience, depending on the user's preferences.
Differences of Live resin cartridge and BHO cartridge
Live resin cartridge containing live resin that has the potent to bring consumers more satisfactory vaping experiences than BHO cartridges and other types of 510 thread cartridges. Live resin is a cannabis concentrate known for its freshness, strong aroma, and freshest flavor owing to flash freezing. By flash freezing the marijuana plant then extracting compounds, more terpene content is left intact as a result of the live resin process. Including more water per gram of cannabis concentrates than the traditional BHO oil make the oil easier to flow.
Aside from the live resin, this type of cartridge's premium quality also comes from refined components like glass oil tank, unique design, well-sealed structure, higher olm coil, smaller oil aperture, and smaller ceramic porosity. Like in Cilicon® ELEV Nano2, the glass oil tank is highly corrosion resistant. Thus, replacing the plastic oil tank with a glass oil tank will prevent changes in the taste of live resin that even food-grade plastic may encounter. The extraordinary designs also elevate the class of the live resin 510 thread cartridge, resulting in good value for money.
The cartridge's sealing mechanism fully prevent leakage and volatilization reaction. This leak-proof seal is particularly important when live resin is more expensive than BHO oil and leakage is a waste of more money. The oil leakage problem in a cannabis vaporizer remains impending even after the oil filling process completes. In fact, the assemblers need to finish the capping process as fast as 3 to 5 minutes before the oil leakage possibly reoccurs. Cilicon's SOLO Nano2 model utilizes oil isolation technology that extends the resting time between after the oil filling and capping processes. The lengthier downtime allows the assemblers to fill more cannabis vaporizer's oil tanks before the next cycle of the capping process.
The higher ohm coil reduces the heat at the source and produces a cooler and pleasant vapor for the cannabis consumers According to Cilicon® , a lower vaporizing temperature means lesser vapor but more valuable in making the cannabis consumers feel high. This coil also restrains battery drainage and consumes less cannabis concentrates than the lower ohm coil. The design of smaller oil apertures and smaller ceramic porosity provided by Cilicon's powerful Formatrix™ heating core allows the same volume of oil per second to be absorbed and vaporized by the ceramic, resulting in a higher purity of terpene content in the vapor.
With all of its goodies, the live resin cartridge is obviously a bang for the buck. The product design, materials, and advanced technologies make it particularly superior to BHO cartridge or any other types of 510 thread cartridges in creating excellent cannabis experiences for the vapers.