Delta-8 THC Market Demand as an Opportunity for Cannabis Vaporizer Businesses
The Delta-8 THC has gained a lot of traction in the cannabis vaporizer industry. What contributes to this success? As Delta-8 THC is a derivative of CBD, a legalized form of marijuana, it is still placed in the grey area of legalization. The good news is that the FDA does not put any red flags on the Delta-8 THC! This uncertainty turns out to be an opportunity for cannabis vaporizer retailers to market the Delta-8 THC vaporizer pens prior to the FDA's verdict.
Besides the fortunate momentum, the Delta-8 THC is also renowned as the milder cousin compound to the Delta-9 THC. As the Delta-9 THC inflicts more potent psychoactive effects on cannabis vapers, it simultaneously amplifies the undesired side effects. The Delta-9 THC vaporizer users may experience paranoia and anxiety, even impairing their motoric skills. Meanwhile, the Delta-8 THC does the complete opposite! Many cannabis consumers consume the Delta-8 THC to find a sense of calmness and relaxation. This benefit certainly shoots up as the ultimate reason behind Delta-8 THC's increasing popularity!
The Most Phenomenal Delta-8 THC Disposable Cannabis Vaporizers
Cilicon always wants to fulfil all cannabis consumers' wishes, including the demand for Delta-8 THC products. The determination to create high-quality cannabis vaporizers to become all cannabis consumers' go-to product has brought us to our best-selling Delta-8 THC disposable cannabis vaporizers, SOLO 1 and FLARE 1! Let's dig into each of these precious pieces!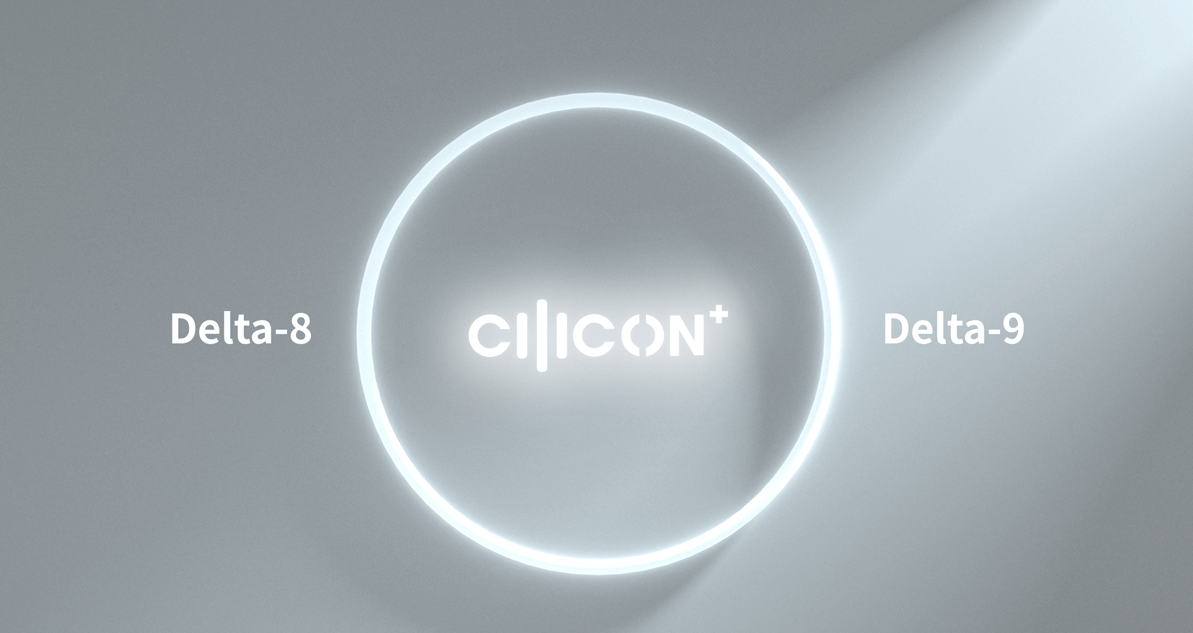 1. SOLO 1: A Long-lasting and Pennyworth Delta-8 THC Disposable Cannabis Vaporizers
The SOLO 1 is the first rechargeable and disposable Delta-8 THC cannabis vaporizer in the market. So, why is rechargeability essential to enhance the overall cannabis vaping experience? The issue with the other disposable cannabis vaporizers is that they often run out of battery before the cannabis consumers can finish off the Delta-8 THC oil inside its cartridge. This condition can be despairing for the cannabis vapers, mainly because e-liquid is not precisely the most affordable product.
SOLO 1 as an all-in-one disposable vape pen that makes its both internal and external designs are simpler than previous generations. The high-quality ceramic heating core and SUS316 stainless steel central tube combines with our advanced technology provide vapers a safer experience that can avoid heavy metal related intoxication. Meantime, our V-shape oil tank design ensures no waste on cannabis oil extract. With particular mouthpiece design and various technical and humanized upgrades on the product, vapers can enjoy their relax moments stably whenever they want.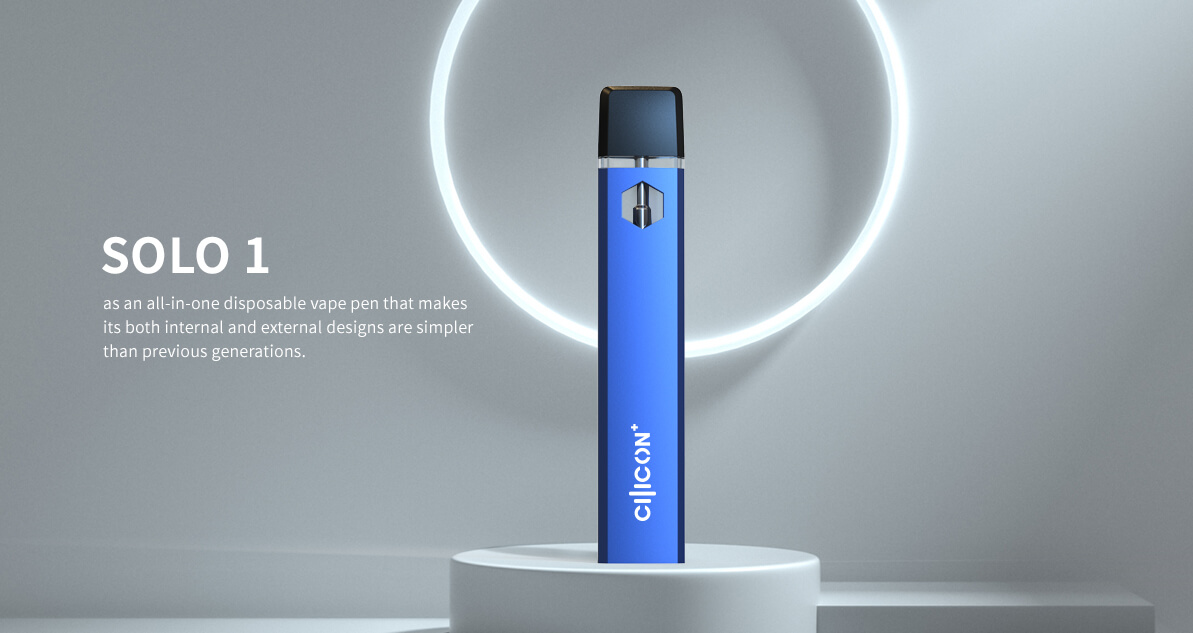 The pairing of Delta-8 THC oil and Cilicon's SOLO 1 disposable cannabis vaporizer is the perfect starter pack for those who just jumped into cannabis vaping. Hence, what are the contributing factors?
Delta-8 THC has a lower price point than Delta-9 THC because of its lower potency. As a result, the Delta-8 THC is worthy of being nominated as one of the budget-friendly cannabis products to go for. Besides, the mild effect of Delta-8 THC also becomes the most appropriate starting point for a newbie.
The one-time-use nature of a disposable cannabis vaporizer contributes to its popularity among cannabis vaping beginners. This segment of cannabis vapers tends to like experimenting on different flavors before they stick with any favorites. Not to mention, the disposable cannabis vaporizer's design that is not meant for long-term use also grants a lower production cost for the cannabis vaporizer manufacturers.
By combining the above with SOLO 1′ rechargeability feature and multiple Delta-8 THC tank capacity, the cannabis vapers have put their hands on the most long-lasting and pennyworth disposable cannabis vaporizer! No more worries in purchasing a larger capacity disposable cannabis vaporizer!
Appearance-wise, SOLO 1 disposable cannabis vaporizer's sleek design is extremely attractive to look at and take out in the crowd. The SOLO 1's compact form factor has obviously outdone the 510-threaded cannabis vaporizer in terms of portability. The cannabis vapers will feel like carrying a pen instead of a cannabis vaporizer!
2. FLARE 1: Eliminating Your Delta-8 THC Oil Clogging Problem with the Touch of a Button
Packed with identical rechargeability and portability features, Flare 1 becomes another Cilicon's Delta-8 THC disposable cannabis vaporizer masterpiece! The main difference with SOLO 1 is in its activation method selections. The cannabis vapers are presented with a two-way activation technology: button and breath. Yet, how is this an essential facet in a cannabis vaporizer?
The button activation method is the ultimate solution to eliminating the infuriating cannabis oil clogging problem! The cannabis vapers will be able to leave their Delta-8 THC disposable cannabis vaporizer on to let it vaporize the leftover cannabis oil and unclog the device. Meanwhile, solving the oil clogging issue is challenging to achieve with the breath-actuation method without the risk of ingesting the Delta-8 THC oil excess. With FLARE 1, the cannabis vapers can rest easy even if they want to have a shot at a highly viscous Delta-8 THC concentrate!
In terms of design, if SOLO 1 touches upon a minimalistic approach, FLARE 1 is the unique opposite. FLARE 1 has a huge see-through glass to cover its Delta-8 THC oil tank. This design aspect is not without reason. The visibility benefits the cannabis vapers by identifying how much Delta-8 THC oil is left in the tank. It's so convenient, ain't it?
Refer to: Cartridges' Clogging Problems and Solutions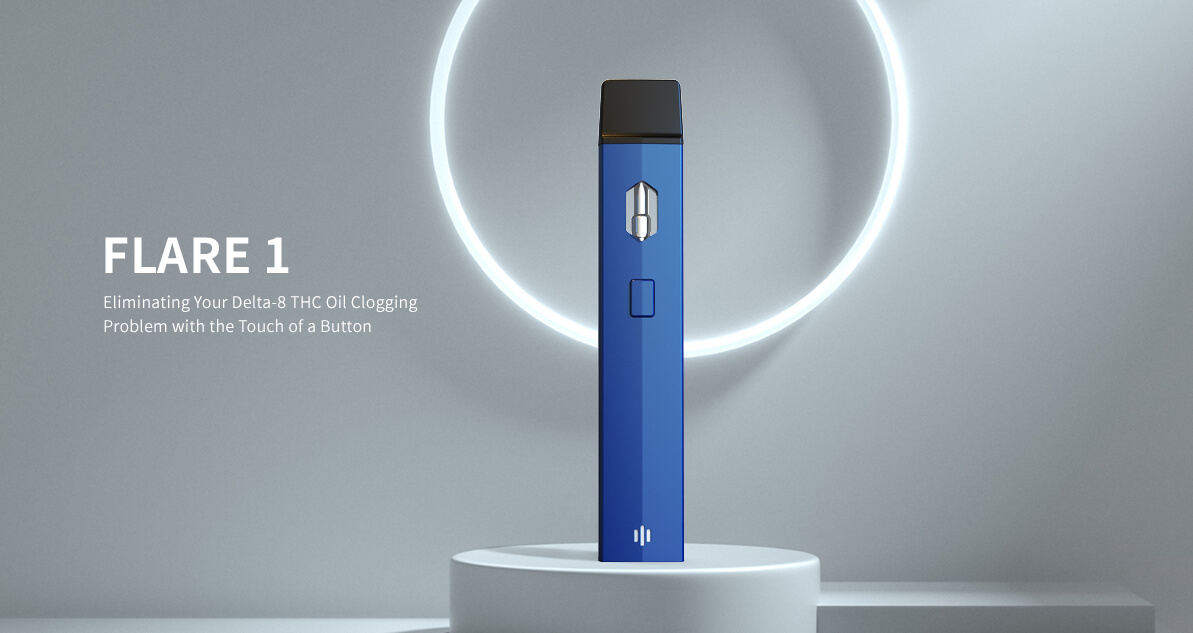 With all the goodies mentioned, SOLO 1 and FLARE 1 may already have been the most sophisticated Delta-8 THC disposable cannabis vaporizers in the market. However, Cilicon does not stop adding more technologies to ensure a consistent towering Delta-8 THC oil vaporizing performance, such as:
Formatrix Ceramic Heating Core Technology
SOLO 1 and FLARE 1 are both equipped with exceptional ceramic heating technology. Cilicon's heating core is made of premium-quality ceramic materials coupled with top-notch technology to produce a compact micropore ceramic core. Cilicon further pairs it with an Alchrome (Iron-Chromium-Aluminum) FeCrAl electric resistance heating coil to ensure the best atomizing performance. It can withstand high-temperature dissolution, 1200°C high sintering undergone 20000+ various tests, proving its success in yielding consistent heat distribution and cost-saving ability. With this mind-blowing technology, SOLO 1 and FLARE 1 will be able to deliver the luscious flavor of the original cannabis oil and a heavenly stimulating vaping experience.
V-shaped Delta-8 THC Oil Tank
SOLO 1 and FLARE 1 possess a V-shaped™ glass cover for its cannabis oil tank, which shapes a slope for each side toward the heating core. This design aspect isn't for aesthetic reasons. The angled glass essentially forces the Delta-8 THC oil to flow into the heating core. With this ingenious design, all cannabis vapers will not waste even a single drop of their Delta-8 THC oil!
Become the Delta-8 THC Cannabis Vaporizer Market Leader With SOLO 1 and FLARE 1!
The escalating trend of the Delta-8 THC in the cannabis market has opened a window to a new opportunity for any cannabis vaporizer business. This fact is further supported by how the FDA has also not come with any discriminating conclusion toward the Delta-8 THC products. What does this mean for cannabis vaporizer business owners? Yes! It is time for you to find a way to shine while the market blooms. Cilicon is here to present you with a shortcut to thrive in the Delta-8 THC market through marketing our sophisticated Delta-8 THC disposable cannabis vaporizers, SOLO 1 and FLARE 1! These two gems will definitely be chart-topping products that will name you the next Delta-8 THC disposable cannabis vaporizer market leader!