What's the 510 Thread Battery and How Does it Work?
The 510 thread battery has been around the clock for decades and are classified as one of the most common types of vaping devices that vape consumers can find in the cannabis market. The vape features a connector consisting of ten 0.5 mm threads. The main components of vapes are the 510 thread cartridge and its vape battery power source. The 510 thread battery activates the heating coil of the cartridge to burn the CBD oil and turn it into vapor form. Yet, the aeonian existence of 510 thread batteries in the cannabis market has burgeoned various issues among vape users. this article will introduce the common problems with 510 vape battery and why is the 510 vape battery not working?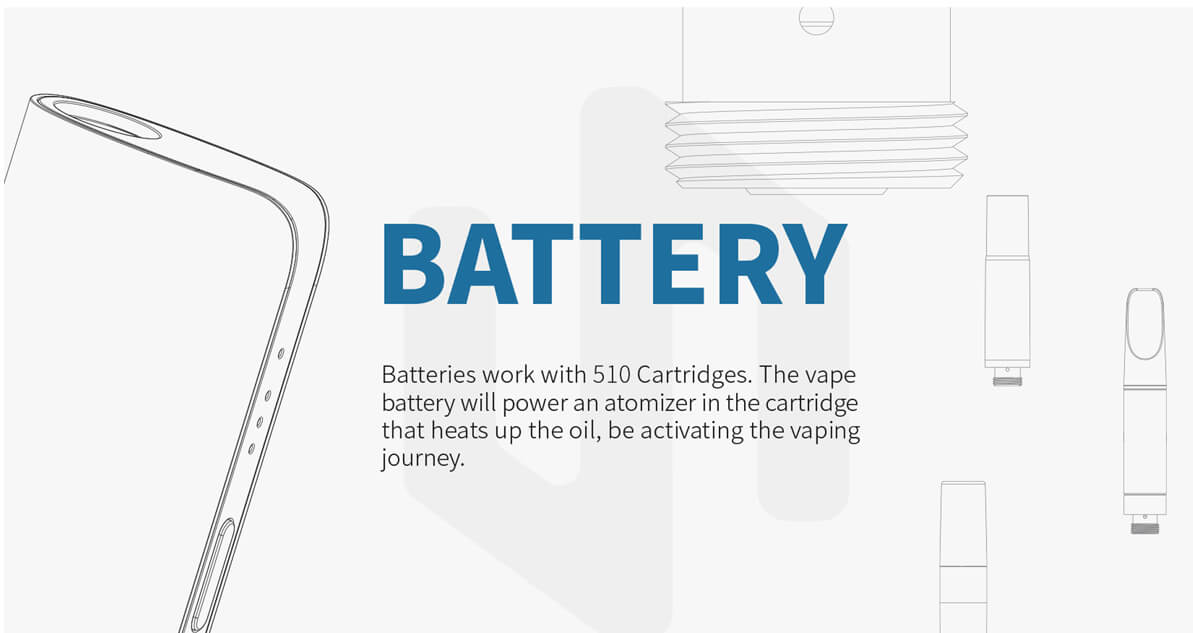 Top 5 Common Problems of 510 Thread Battery
We understand the stress and concern that a defective vape battery can cause vape users, but worry not! Cilicon Team will provide effortless solutions to common problems for the 510 thread batteries to ease your vaping journey. We will cover various simple steps you can grasps when your vape stops working.
1.Faulty Connection Plate between Cartridge and 510 Battery
Suppose you noticed that your 510 vape battery is not charging or working even though the attached 510 cartridge is tightly screwed. In that case, inspect the battery contact to see if it is due to a faulty connection plate derived from no or minimal contact from the 510 thread battery to the 510 cartridge, making it either zero or inefficient power transmission. It is an easy fix! We can adjust the connection plate using a paper clip to gently pull and push it back up to ensure both battery and cartridge are on the same level without overtightening it.
2.Dirty Connectors!
Once you are sure that there is no faulty connection between the 510 thread battery and cartridge, you can check if unknown substances are blocking the contact. Dirt in the connectors may cause your 510 thread vapes to become inoperable as it reduces conductivity. The CBD oil may leak from the oil chamber into the threads area in some cases. You can easily use a cotton swab dipped into rubbing alcohol to clean the connectors when this happens. Your vapes will get fixed in no time!
3.Quick Fix on Your Overloaded 510 thread Battery
Understanding your battery's health indicators is essential to prevent any possible damage and extend the product's shelf life. You should know that most 510 thread batteries have a cut-off feature, which alerts you with light flashes when you accidentally overloaded your 510 thread batteries. In some devices, the auto-lock function will activate, in which the 510 thread batteries will be disabled to prevent severe damage from occurring overheating. When this happens, don't panic! You can quickly reactivate your 510 thread battery by letting it cool down for ten seconds before reusing it again.
4.Over-Drainage 510 Battery 
Aside from overloading your 510 thread battery from excessive usage, you can also experience over-drainage that causes your 510 battery not to charge. The fault may be at your 510 thread battery charger. When buying a new battery charger, you need to choose a high-quality battery charger with an amperage matching the old 510 battery charger that comes in your 510 thread battery package. (Cam, 2018). Another tip is to buy the battery charger from an official vapes retailer!
Refer to : Cartridges Common Problems and Solutions
5.Gradual Damage: How to Prolong Your 510 Thread Battery Life 
Like any other electronic component, 510 thread batteries also have their lifespan. When you have used the 510 thread batteries for a long time, it is not surprising if it will deteriorate performance or even shut off. You can try contacting the place you buy the batteries to seek expert assistance, or you can purchase a new one.
If you decide to make a purchase, Cilicon is here to provide you with some tips to keep your new 510 thread battery as long as possible. First, you should pay attention to how you store your 510 thread batteries. You should keep it in dry and cool rooms and avoid direct sunlight! The exposure of the 510 thread batteries to extreme temperatures may damage the batteries in the long run. Another tip is to put your 510 thread battery away from metallic objects as it may cause a short circuit and damage your battery due to magnetic field.
Despite the problems you may encounter above, the 510 thread battery has been classified as one of the vape industry standards. All 510 battery cartridges with thread connectors could be easily paired with any 510 thread batteries from any brand. In terms of performance, the 510 thread batteries are highly portable, can provide you with lengthier vape usage, and also offer a solid connection with any 510 vape cartridge due to the thread setup.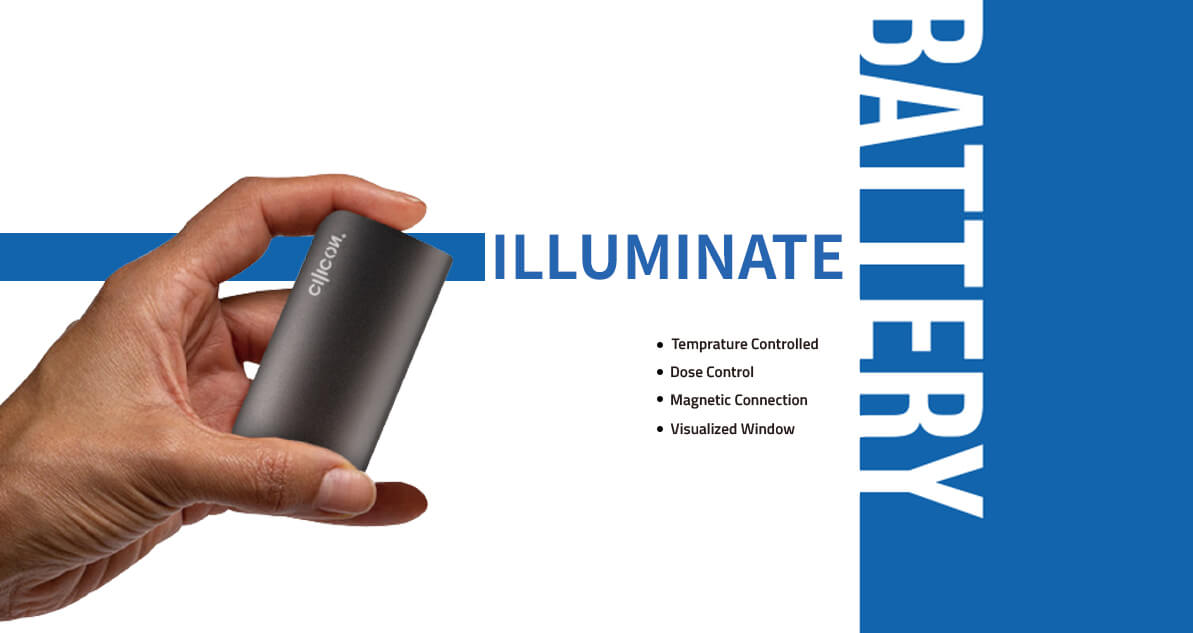 Types of 510 Thread Battery
After learning about the problems, quick fixes, tips, and benefits of the 510 thread batteries, let's dig into the types of 510 thread batteries that you can find in the market! Based on the availability of the button and voltage control function in the 510 thread batteries, here is the categorization of the 510 thread batteries:
The buttonless fixed voltage 510 thread battery is one of the most affordable and standard options, which fits various cartridges. The 510 thread battery's voltage varies on the day-to-day use based on how the vapers hit their devices. The benefit of not having a button is that the device would not turn on accidentally when vapers keep their 510 vape pens in their pockets. This vape battery could only activate when the device is inhaled or in use to avoid low battery issues.
The 510 thread battery with button and fixed voltage are similar to the buttonless ones. However, vapers can turn the battery on and off with a touch of a button. The button switch acts as an activator that gives vapers control over their power usage. Despite the extra feature, the 510 thread battery still needs to be charged with low-voltage 510 battery chargers that come in the box.
The 510 thread battery with a button and variable voltage is the most sophisticated option due to its voltage control function. The 510 thread battery lets people input the voltage to determine how they want their 510 thread vape pens to operate. By clicking the voltage control buttons, vapers can decide if they want a light intake or a heavy puff. Therefore, vapers can rest assured that every puff they get will always be in their favor.
How to Choose The Right 510 Thread Battery
So, how do people choose the right 510 thread battery?  The first thing to notice is the physical appearance of the vape batteries. You can feel the build quality wrapper condition and notice the written specifications. You should pay attention to the vape battery's capacity, voltage, and type of 510 battery and adjust it according to your need. For instance, you can expect more potent hits with higher capacity and voltage, making the vaping experience more pleasant. Regarding the 510 thread batteries' material, Cilicon recommends Lithium Manganese as it is considered one of the safest materials, allowing power discharge at a high current under low temperature. Thus, it is typically safer to use without an additional protective circuit (Vape Superstore, 2019).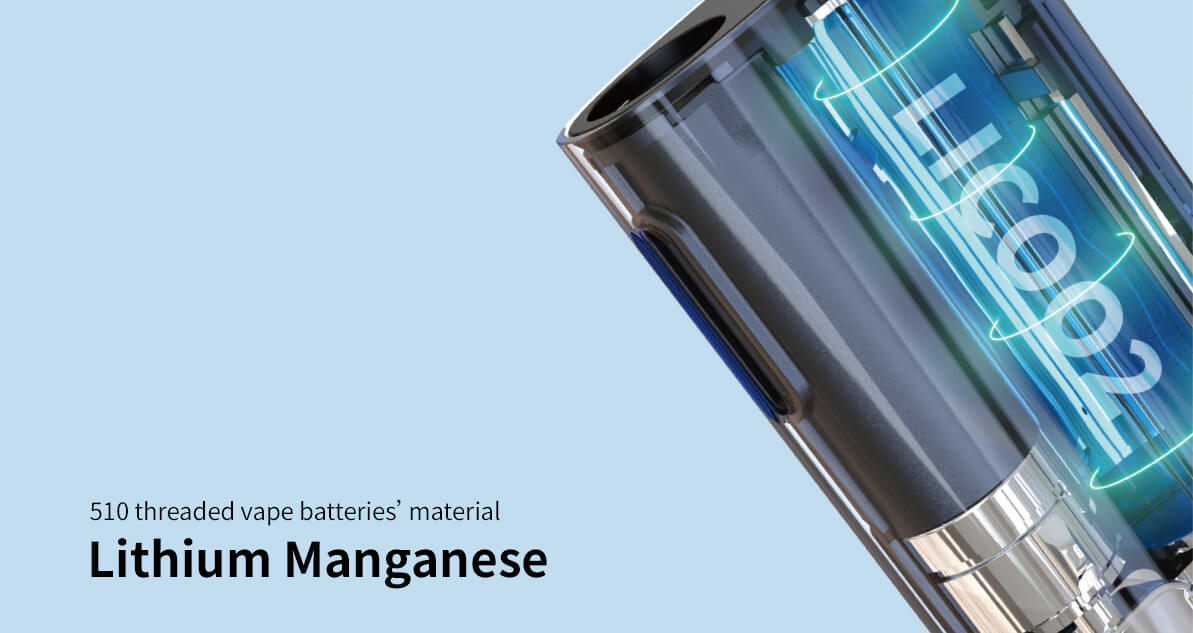 The most important thing is that you should always be analytical and evaluative, executing sufficient research before purchasing a 510 thread battery. Vape users are exposed to counterfeited 510 thread vape batteries that are very risky to use. These counterfeited products may have spread around the internet. Vape users must be suspicious if a 510 thread battery is sold below market value price, which is way below the official retailer's pricing! Most likely, it is a counterfeited 510 thread vape battery! So, be careful! It is always advisable to seek trusted vendors.
Lastly, the 510 thread battery has long been the vape industry standard. As a result, you can easily pair your 510 thread batteries with any battery cartridge with a thread connector. Most problems with the 510 thread batteries can also be solved easily and quickly. The 510 thread vape battery is a reliable vape battery option with the benefits of cross-compatibility, portability, lengthy usage, and solid connection.
Refer to: What to do to keep your vape battery healthy?
510 Thread Battery Manufacturer and Supplier
Cilicon released three 510 thread batteries in total, ELEV Buff1, LIT Buff2 and EDGE Mod1. After a long time of researching and testing, they have good reliability with an outstanding quality which is approved by the market. ELEV Buff1 is an intelligent and super easy-to-use 510 thread battery for larger volume 510 cartridges,  it optimizes the vaping performance through the latest intelligent heat control technology that allows for the mellow, full, and consistent flavor and vapor all the time. LIT Buff2 is a trusted power source that can mostly avoid breaking down. Compatible to all 510 thread cartridges, LIT Buff2's reliable quality promises a durable life expectancy. Packed with demanding functions including pre-heating technology, dose control and magnetic connection, EDGE Mod1 is the battery choice aligns with your brand if your unique selling proposition is to provide premium product that gives ultra-satisfaction.  You are about to boost your vaping experience with the Cilicon's 510 thread battery!