Since cannabis legalization through the Farm Bill in 2018, many nicotine cigarette consumers have moved toward cannabis for either recreational purposes or to attain its health benefits. The rapid development in the cannabis market has introduced us to many different cannabis variants spreading in the market. The two most common cannabis categories are CBD (cannabidiol) and THC (tetrahydrocannabinol). CBD is renowned for its calming effect, while THC, particularly the Delta-9, causes euphoric psychoactive impacts for its consumers. Due to its mild impact, CBD is the cannabis variant that has been legalized in multiple states.
In recent years, the Delta-9 THC has a sibling variant, the Delta-8 THC, that has increasingly gained much attention from cannabis consumers. To obtain Delta-8 cost-efficiently, it's easier to synthesize with proper solvent compared with being sourced naturally in the cannabis plant. However, it is usually synthetically derived from CBD and contains less than 0.3% amount of THC, making it less potent than the Delta-9 THC. It's reported to cause several effects such as mild euphoria, relaxation, increase in appetite, restful sleep, and pain relief. So, how does this cannabis variant fare in the market and face of law?
Refer to: Delta-8 vs. Delta-9 THC: The Ultimate Comparison
Inconsistent yet Potential
Despite being derived from legalized cannabis, the Delta-8 THC still stands within the grey area of legalities. The legalization status of the Delta-8 THC varies from one state to another. Some argue that the Delta-8 THC should be effectively legal due to the 2018 Farm Bill that legalized hemp-derivated products with low THC content. However, there is also a federal preemption issue, in which state laws conflict with federal laws regarding the status of hemp-derivates, like the Delta-8 THC, that ultimately causes inconsistency. It is safe to assume that we could not yet conclude the legal standpoint and can only prepare ourselves for the possibly unexpected regulatory changes in the future.
Amid this unclear regulatory path comes opportunities for cannabis business owners to quickly dive into the Delta-8 THC products and gain profit before its legalization status is set in stone. This also correlates with how Delta-8 THC has been experiencing exponential growth in its search volume on Google. In fact, the number has increased more than seven-fold its original search quantity back in 2019 and encompasses 35% of all cannabis-related searches. The fun fact is that it happened after years of stagnant growth since 2011. This trend indicates that people have recently expressed interest in the Delta-8 THC. Furthermore, research also shows that the Delta-8 THC is popular among recreational cannabis users and can be considered a substitute for the more potent Delta-9 THC.
Now that we understand the legal standpoints and trends of the Delta-8 THC, we may conclude that it is still considered an undeniable land of opportunity. However, the noteworthy aspect is that business owners should proceed cautiously by keeping themselves updated with the regulatory landscape changes regarding Delta-8 THC.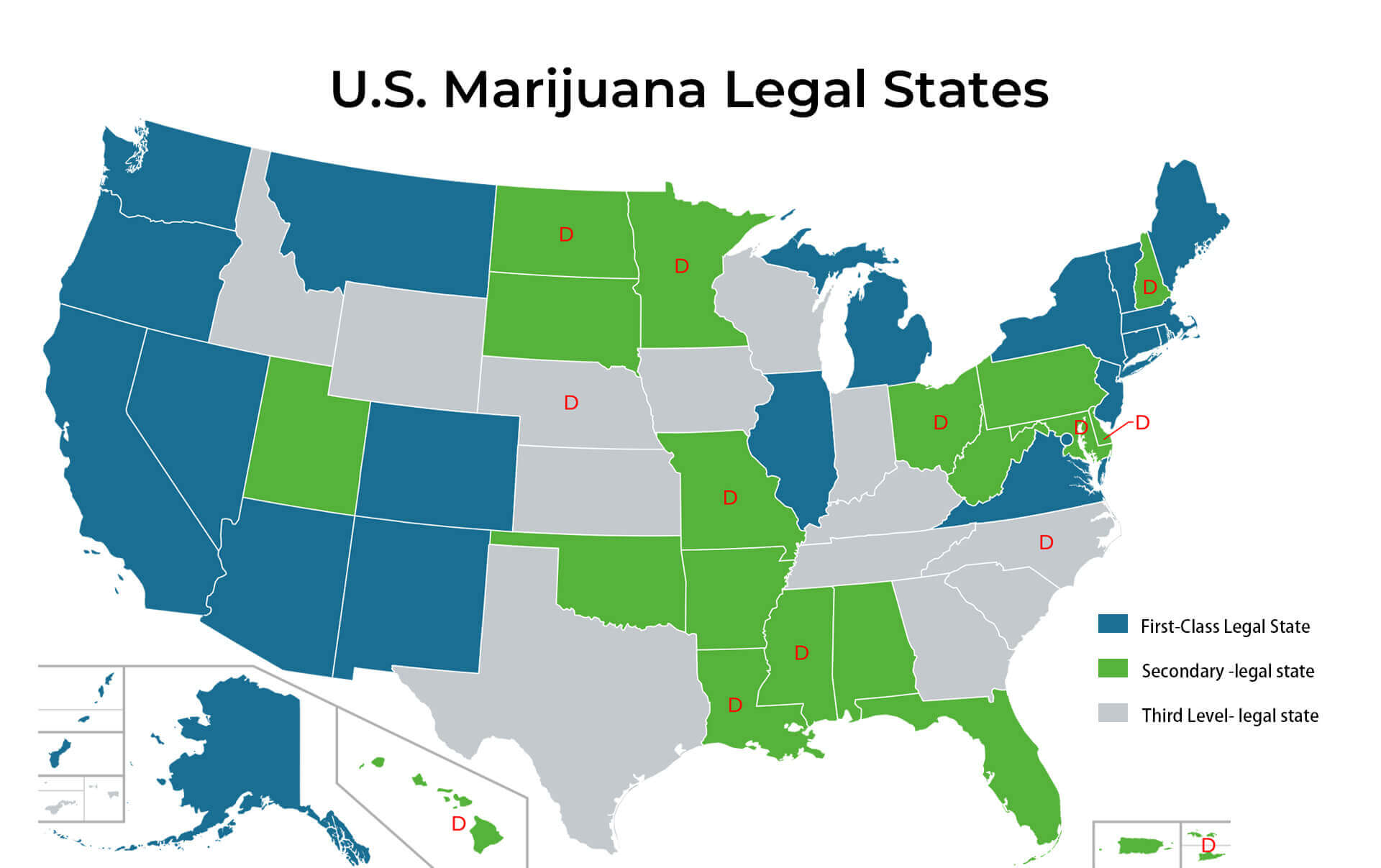 Cannabis Vaporizer: The Go-to Tool to Consume Delta-8 THC
After some discussion about the popular Delta-8 THC, another essential aspect to tap is how people prefer to consume Delta-8 THC, such as in the form of edibles, cigarettes, or vaporizers. For those cannabis consumers that prioritize discreetness, cannabis vaporizers can be a favorable choice to consume their favorite Delta-8 THC. Cannabis vaporizers usually come in a compact body and work by absorbing cannabis extract into heating core and then transforming it to vapor that the consumers inhale. Not only is it effortlessly concealable and practical, but the cannabis vapor it produces also absorbs into the bloodstream almost immediately, providing an instantaneous experience for cannabis consumers.
Cilicon understands that many business owners have stepped into the cannabis vaporizer industry. To help you take your first step, we curate two quintessential disposable cannabis vaporizers you can consider as your ultimate weapons.
Refer to: What is the Ideal Cannabis Vaporizer to Launch at each Stage of Business Development
#1 BB Tank's SIM POD
BB Tank is a cannabis vaporizer brand originating from China. The SIM POD is a disposable Delta-8 THC cannabis vaporizer with a seamless design with various trendy color lines. This cannabis vape device is extremely compact but packs a substantial battery capacity of 350 mAh. It also features a glass window that provides visibility for the users of the remaining Delta-8 THC amount in its oil tank. In terms of its vaporizing core, SIM POD features a ceramic heating core famous for its top-notch performance in heating Delta-8 THC oil optimally. Like many other disposable cannabis vaporizers nowadays, BB Tank SIM POD also have a rechargeability function to let the cannabis users consume their Delta-8 THC at their own pace. This device contains all consumers' essentials in a Delta-8 THC cannabis vape device.
#2 Cilicon's Solo Series
One of Cilicon's masterpieces to consume Delta-8 THC is the Solo disposable cannabis vaporizer series. The Solo series features all your basic needs with a touch of innovation.
Instead of utilizing the common ceramic core, Cilicon develops premium ceramic construction and materials coupled with top-notch technology to produce a refined microporous structure. Paired with an Alchrome (Iron-Chromium-Aluminum) FeCrAl electric resistance coil, our heating core ensures the best heating core that distinguishes your vaporizer in the cannabis market. It can withstand high-temperature dissolution, 1200°C high sintering undergone 20000+ tests, proving its success in consistent heat distribution and cost-saving ability.
Aside from our top-of-the-line ceramic core, the Solo disposable cannabis vape device series also incorporates a unique Delta-8 THC oil filling technology called Spacxfill™. This new invention minimizes the Delta-8 THC oil wastage due to a drop or leakage during the filling process. In addition, expanding the space of the oil filling area three times larger than its original specification optimizes the working efficiency due to lower accuracy and less stringent requirements. This feature has become exceptionally friendly for retailers looking for fast, easy, lower-cost oil cartridge filling that does not require technical precision.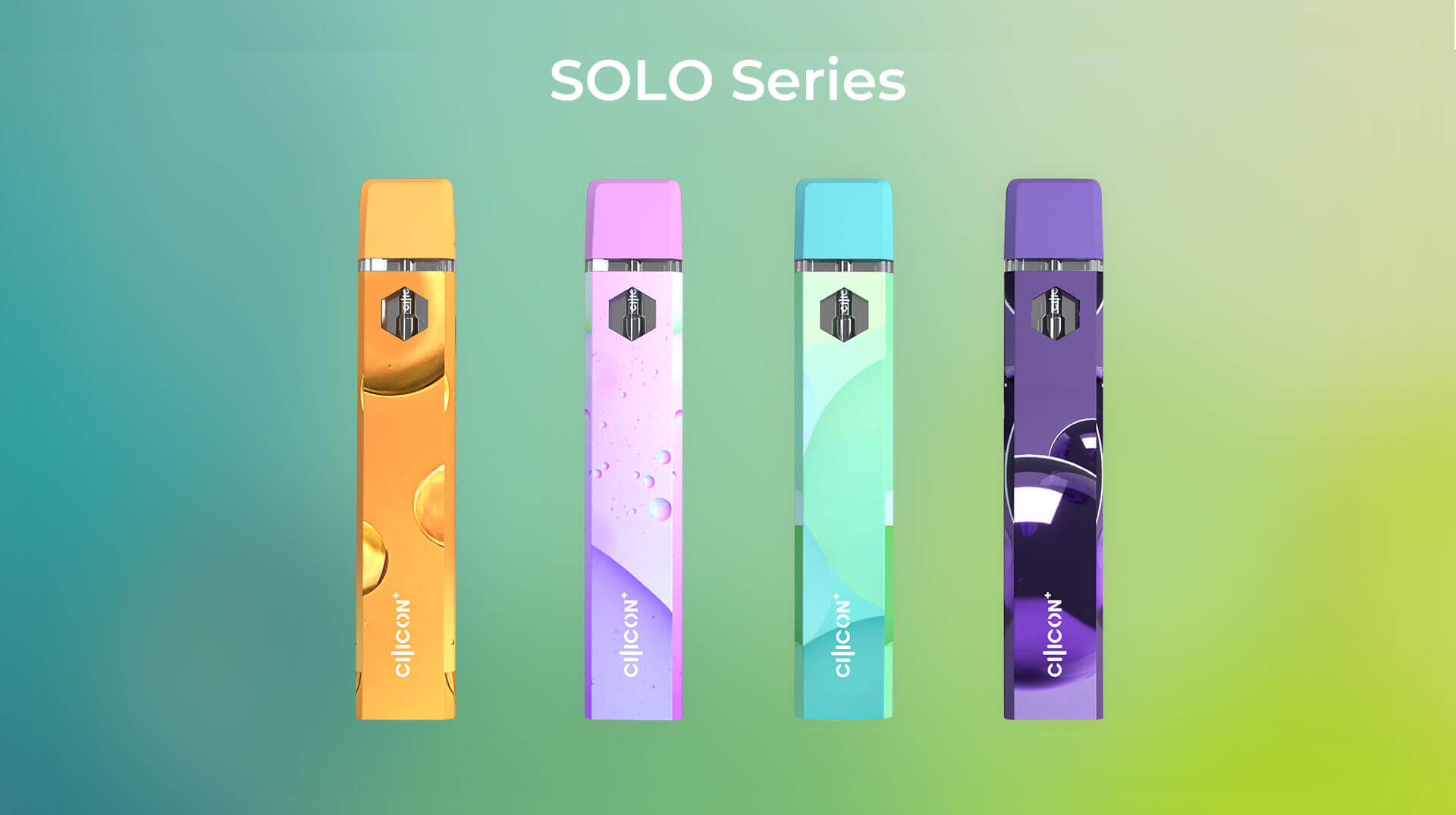 Stepping Into The Delta-8 THC Industry with Cilicon
For those cannabis consumers who look for a milder psychoactive impact than the Delta-9 THC but more potent than CBD, the Delta-8 THC is their holy grail product. Since 2019, the Delta-8 has had a skyrocketing reputation among cannabis consumers. This becomes the perfect moment for cannabis businesses, including cannabis vaporizer brands, to navigate the Delta-8 THC market. Sourcing top-notch cannabis vaporizer manufacturers should be a priority. Cilicon is confident that our Solo disposable cannabis vaporizer series, with its ultramodern features, will become your valuable investment to penetrate the market seamlessly!