The fast-growing cannabis vaporizer industry has offered a multitude of products to satisfy all cannabis vapers. The varieties include different cannabis strains and vape devices that serve diverse purposes. For instance, one of the most accessible cannabis vaporizers, the 510 thread cartridge, promotes versatility. In terms of cannabis strains, a different type of cannabis offers a varying psychoactive impact for cannabis vapers. In this article, Cilicon® specifically dissects the THC vape pen as one of the foremost cannabis vaporizer categories that still hold broad potential!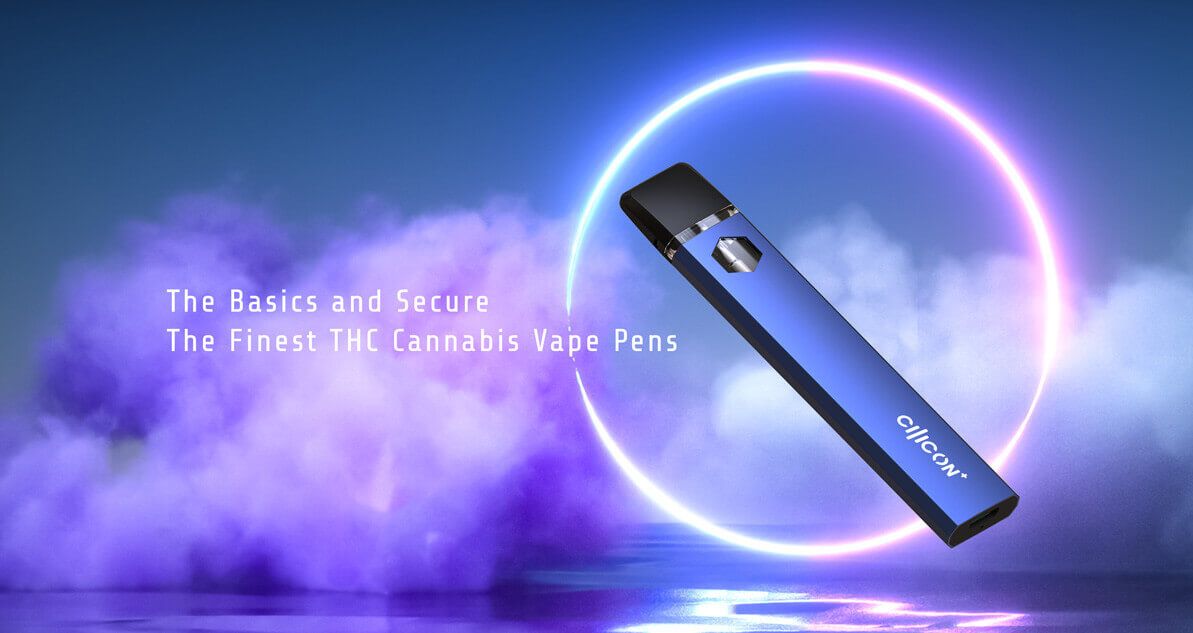 Overviewing The THC Vape Pen
The cannabis vape pen is one of the beloved products in the cannabis vaporizer market because of its user-friendliness. With its straightforward design and functionality, the cannabis vaporizer pen has become a hassle-free option for cannabis vapers. There are mainly two kinds of activation methods in cannabis market – inhale-actuated and button actuated. And most cannabis vape pens consist of cannabis cartridges, which hold the cannabis oil in their oil tanks, and batteries as the power source. When the activation button is pressed, the battery will activate the heating core that exposes high temperatures to the cannabis oil to transform it into the vapor the cannabis vapers inhale.
Inside a cannabis vape pen's oil tank, we can find different types of cannabis. The most common ones are CBD and THC, with a primary difference in their psychoactive effects. THC offers a relatively more powerful impact as its neurotransmitter binds better with the receptor in the human brain than CBD, while CBD provides a sense of calm by trying to mitigate the effect of THC combined with human receptors. This translates to how THC induces a euphoric experience for the cannabis vapers and, at the same time, with different products containing various levels of CBD and THC together, so it could treat some conditions, such as pain, muscle spasticity, glaucoma, insomnia, low appetite, and anxiety.
The THC vape pen essentially offers the cannabis vapers one of the most practical ways to consume THC! With a touch of a button, or even without any manipulations, the cannabis vapers are off to sail on a thrilling THC vaping journey.
Discover The Variety of THC Vape Pens
As we understand the basics of a THC vape pen, we will be able to dive deeper into its development, which has introduced various designs that cannabis vapers can pick according to their needs. The two main categories of THC vape pens that most cannabis vape brands offer are:
1 Disposable THC Vape Pen: Achieve A Discreet Cannabis Vaping Experience
The THC disposable vape pen is meant for one-time use and should be disposed of after the THC oil runs out. As the battery is built into the cartridge, this THC vape pen is seamless and compact, offering a vast advantage of effortless storage and concealability. The recharge function allow consumer to avoid the short battery life situation with no oil waste. Not to mention, the relatively small-capacity battery also contributes to producing less post-vaping cannabis aroma. These characteristics transform the disposable THC vape pen into the discreet cannabis vapers' favorite.
2 Reusable THC Vape Pen: Versatility at Its Finest 
The good old THC 510 thread cannabis vaporizer pens belong to the reusable segment. The primary takeaway of a reusable THC vape pen is that it has a larger-capacity detachable battery that can be matched with other cannabis cartridges from different brands. The prerequisite is that they have to possess the exact connecting mechanism. In this case, the 510 thread is the standardized connector in the cannabis vape industry, which is why the THC 510 thread vape pens are widely manufactured. Another noteworthy aspect of a reusable THC vape pen is that the larger-capacity battery is expected to deliver a more powerful individual hit as it can produce denser THC clouds.
Depending on the cannabis vaper's level of expertise, the cannabis vaping rookies may start with the THC disposable vape pen and move to the reusable type when they become more accustomed to the THC vaping lifestyle.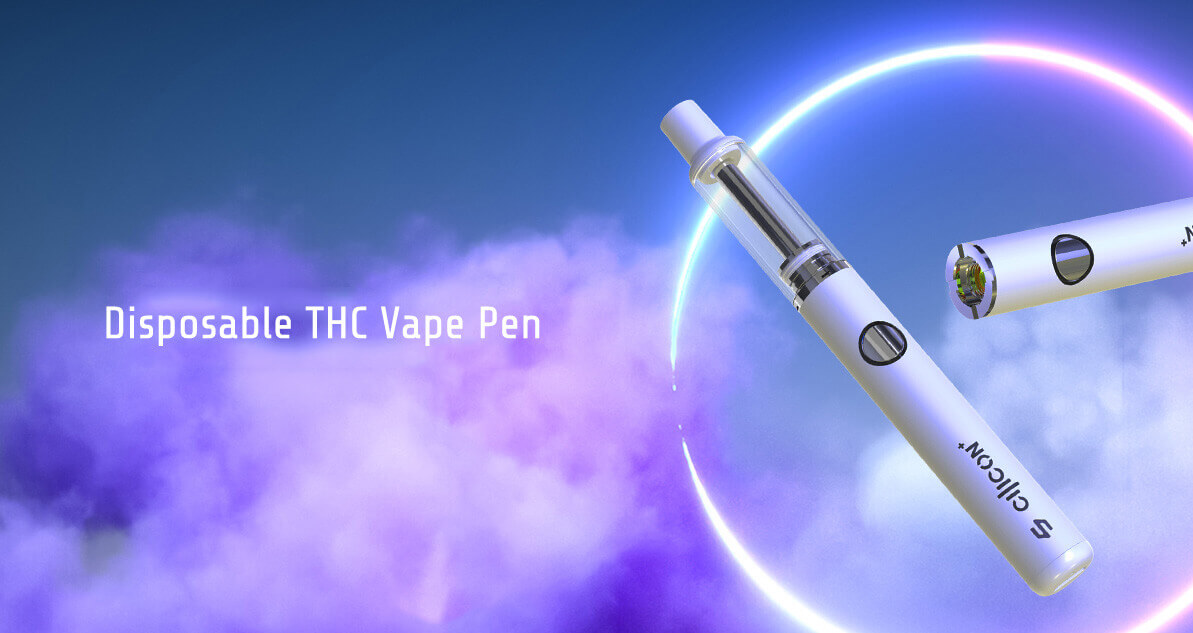 Directions on Choosing Top-Notch THC Vape Pens 
After understanding the different THC vape pen products, you need to be aware of the THC vape's quality factors crucial to determining the cannabis vaping experience. Cilicon® is here to share tips on choosing or manufacturing the perfect THC vape pen!
1. Strive for Premium Quality THC Vape Pen's Battery, Material, and Airflow Design
Cilicon® recommends avoiding Teflon coating in a THC vape pen as it could melt and leave toxic substances that may endanger the cannabis vapers. Another crucial component is the vaporizing core material, which should be ceramic or metal. The metal core benefits in high responsiveness to the temperature setting changes, while the ceramic core offers an unadulterated heavenly cannabis taste. For the battery itself, you may go for a USB rechargeable 240 mAh lithium-ion battery that should last a week of usage for casual THC vape pen users. So, in order to get a balanced taste, consider the design and material distribution of ceramic, heating coil and battery setting together to create a most proper combination is important. Aside from battery and material, the quality of a THC vape pen is also determined by its airflow design valued by how it can promote high-performance air intake.
2. Enrich Your THC Vape Pens with Value-Adding Features 
Cilicon® suggests looking for THC vape pens with multiple cannabis vaping-enhancing features that will distinguish your cannabis vaporizer brand from another! For instance, the additional feature to go for in a THC vape pen is an auto-off feature to preserve the battery life as long as possible. Another necessary element is the temperature control function to offer the cannabis vapers a personalized THC vaping experience with different potency levels. For example, CILICON® EDGE 1's user-friendly design contains 3 voltage settings which provide customers flexible options to choose the density of each puff between terpene and cannabinoid, making you get different feelings depending on your needs.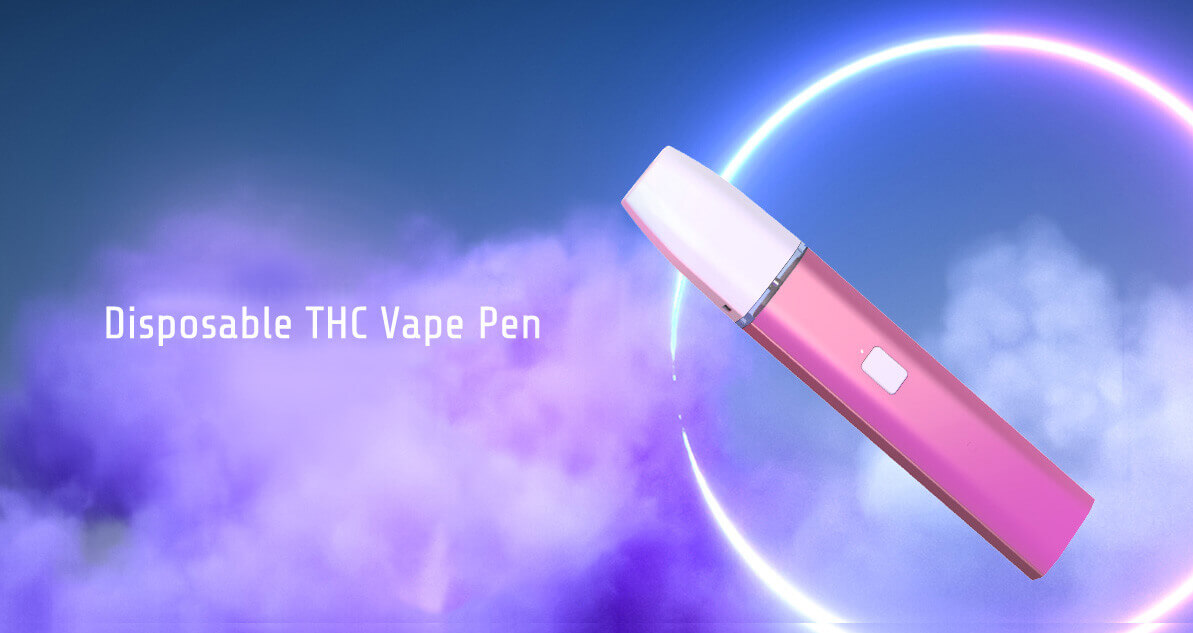 3. Pave The Way to Consuming THC in Style with Your THC Vape Pen 
The aesthetics of a THC vape pen may become increasingly crucial in this flooding market. Despite incorporating high-quality materials and attaching countless features, you may still lose the competition if you completely neglect the design aspect. With female consumers and Gen Z group growing, cannabis vapers are looking for a sleek THC vape pen design with multiple choices of color that will allow them to consume their daily dose of THC in style.
Turning the above expectations into reality, Cilicon® is here to ease your way into manufacturing otherworldly THC vape pens to bring THC vaping to the next level! For instance, our Solo and Elevate THC vape pen series are attached with multiple value-adding features, such as:
1. Formatrix Heating Technology that Exceeds Your Expectation of A High-Quality Vaporizing Core
Cilicon® takes the initiative to find the ideal heating element that can withstand heat without compromising users' health benefits. We selected only the premium-quality ceramic materials coupled with top-notch technology to produce a compact micropore ceramic core and paired it with an Alchrome (Iron-Chromium-Aluminum) FeCrAl electric resistance heating coil. It can withstand high-temperature dissolution, 1200°C high sintering undergone 20000+ various tests, proving its success in consistent heat distribution and cost-saving ability. With this mind-blowing technology, your vaporizer will be able to deliver the luscious flavor of the original cannabis oil and a heavenly stimulating vaping experience.
2. Duair Technology: Bid Farewell to Cannabis Oil Leaking Problem with Cilicon's Fascinating Dual Airflow Design
This technology overwrites the standard single vaporizing airflow channel. The Duair technology features two separated vaporizing channels to prevent cannabis vapers from facing a deadlock situation. When the viscous cannabis oil clogs around the micropores of the ceramic device due to a lower temperature, cannabis users can effortlessly switch on the secondary Electrical Breathing-Actuated Channel that signal the heating device to heat and melt the solidified oil obstructing the air inlet.
Besides these sophisticated technologies, you also can customize your dream THC vape pen to include auto-off features, child lock features, v-shaped cannabis oil tank design, aesthetic look, and heaps of other features to make your brand's THC vape pen stands out in the crowd!
Manifesting The Leading THC Vape Pen with Cilicon®
The THC vape pen is an effortless way to consume THC. Many cannabis vapers are looking for an instant euphoric and pain relief effect of THC, which is possible through a THC vape pen. In this crowded market, a THC vape pen's business owners should always go for premium quality, limitless features, and sleek design. Cilicon® is prepared to provide you the solution of a supreme THC vape pen that is fully customizable according to appeal to your target cannabis user audience with a heavenly stimulating THC vaping experience!