The cannabis business has been through a major development in the last few years due to its legalization in many states. Even though the restrictions and limitations regarding its uses are still at large, cannabis still manages to gain much traction through increasing sales demands. Many cannabis users typically look for the medical properties that cannabis offers, such as pain and anxiety relief.
The cannabis business and communities have devised several ways to consume cannabis. The most conventional one is done by turning them into cigarettes that cannabis users smoke. However, people have been alternating between several consumption methods, such as ingestible gummies and cannabis vaporizers. One of the most preferred methods is cannabis vaping. So why does it gain popularity? Primary reasons are that a cannabis vape device possesses high-level practicality, quick effect and discreetness. A cannabis vaporizer is extremely user-friendly. It can activate only by either a mere press of a button or through direct inhalation. Then, the cannabis vape device will do its magic to heat the cannabis extracts and create vapor. In terms of shape and size, cannabis vapers can effortlessly find a cannabis vaporizer with a measure of a pen. No wonder it is often overlooked by the public's eyes!
Now that the cannabis vaporizer business has been thriving for years, the number of brands we can find in the market is also increasing. This means the competition has also become harsher, and a common cannabis vaporizer product line won't cut it anymore. Especially those newfound cannabis vaporizer brands must develop a winning strategy to reign the market leadership. One method is selecting the highest-quality material for your cannabis vape devices. The question is, what are some of the recommended materials? Let Cilicon provide some premium materials you can consider utilizing in your cannabis vaporizer products!
#1 Metal as cannabis vape device's hardware materials
Metal is one of the go-to hardware that a cannabis vaporizer brand usually features. The most excellent metal hardware for cannabis vaporizers is medical-grade stainless steel, also called SUS 316L, especially when it is used for the part in direct contact with the cannabis extract, such as the cannabis vaporizer's central tube. This kind of metal has been used for surgical tools, jewelry, pet dishes, and kitchen utensils because it is corrosion-resistant, can withstand high-temperature, and has non-allergenic properties. Moreover, stainless steel does not oxidize with cannabis oil which has no impact on the color and taste of cannabis oil. Compared with food-grade SUS 304 stainless steel, it is safer because it can be touched with blood while SUS 304 could only be touched by mouth even though SUS 304 is appliable and often be used in the vape pen, too.
Due to the stability in both chemical reaction and heat conductivity, high-temperature iron chromium aluminum is another type of metal that usually be used as the heating coil material in a cannabis vaporizer because its heating rate is faster and is able to generate more vapor. Anyway, both types of metal material in the Cilicon made vape pen have passed the heavy metal test that ensures no phenomenon of heavy metal precipitation in actual usage.
#2 Ceramic as heating element material
The star material for a heating element was wicks, but the cannabis vaporizer market has long moved on to the predominant heating element materials in the industry: quartz and ceramic. Quartz and ceramic both are composed primarily of silicon dioxide. Due to the difference in the internal structure design and processing method, the eventual effect of applying the same cannabis extract are still much different.
Ceramic seems to win the heart of most cannabis vaporizer manufacturers because it can retain and burden more heat and uniformly distribute them to create consistent and proper vapor, leading to a longer vape pen lifespan. In addition, the ability to radiate this much heat at one time positively affects the battery life of a cannabis vaporizer. Not to mention, it can also deliver a robust and smooth vapor for beginners in cannabis vaping like better. Meantime, many cannabis vaporizer manufacturers still choose ceramic over quartz. The harsh and thicker vapor that a quartz element produces is considered too much to take for a rookie in one hit. The inaccuracy of temperature control in a quartz heating coil material causes it to be less flexible for cannabis vapers when they are still exploring cannabis extracts with different viscosity levels. Last but not least, it also speedily drained the cannabis vape battery to compensate for its faster heat-up time, which may not be ideal for most consumers that prefer not to carry a charger everywhere. Thus, especially for large-volume vape pen which requires long-term use and repeated heating, ceramic is an ideal choice to be chosen as the heating element material.
Refer to: Ceramic Heating Element: The Best Engine for Your Cannabis Vape

#3 Glass or food-grade PCTG material to construct the cannabis vaporizer's oil tank
Not just any glass, a cannabis vaporizer manufacturer usually utilizes a borosilicate glass. This glass type can withstand thermal shock and will not deteriorate under heat. In terms of clarity, borosilicate glass is considered to have the highest clearness. Therefore, it is perfect for those cannabis vapers who want 24-hour visibility of their cannabis extract or oil. Another recommendation is to go for resin glass as the less costly alternative. There are lots of 510 vape pen using glass as oil tank material, unlike major pod-system or disposable products, many 510 oil tanks are fully transparent and visualized, and using glass oil tank makes it looks advanced and clearer. The drawback of this glass type is that it is prone to scratches, which might bother some cannabis vapers. On the other hand, food-grade PCTG relatively requires lower cost and is usually applied to pod-system or disposable. To avoid toxins caused by repeated heating, currently, food-grade PCTG is safe enough to be used in a vaporizer. Thus, either glass or food-grade PCTG are flexible, it depends on the discussion with your supplier and what kind of material and outcome you want.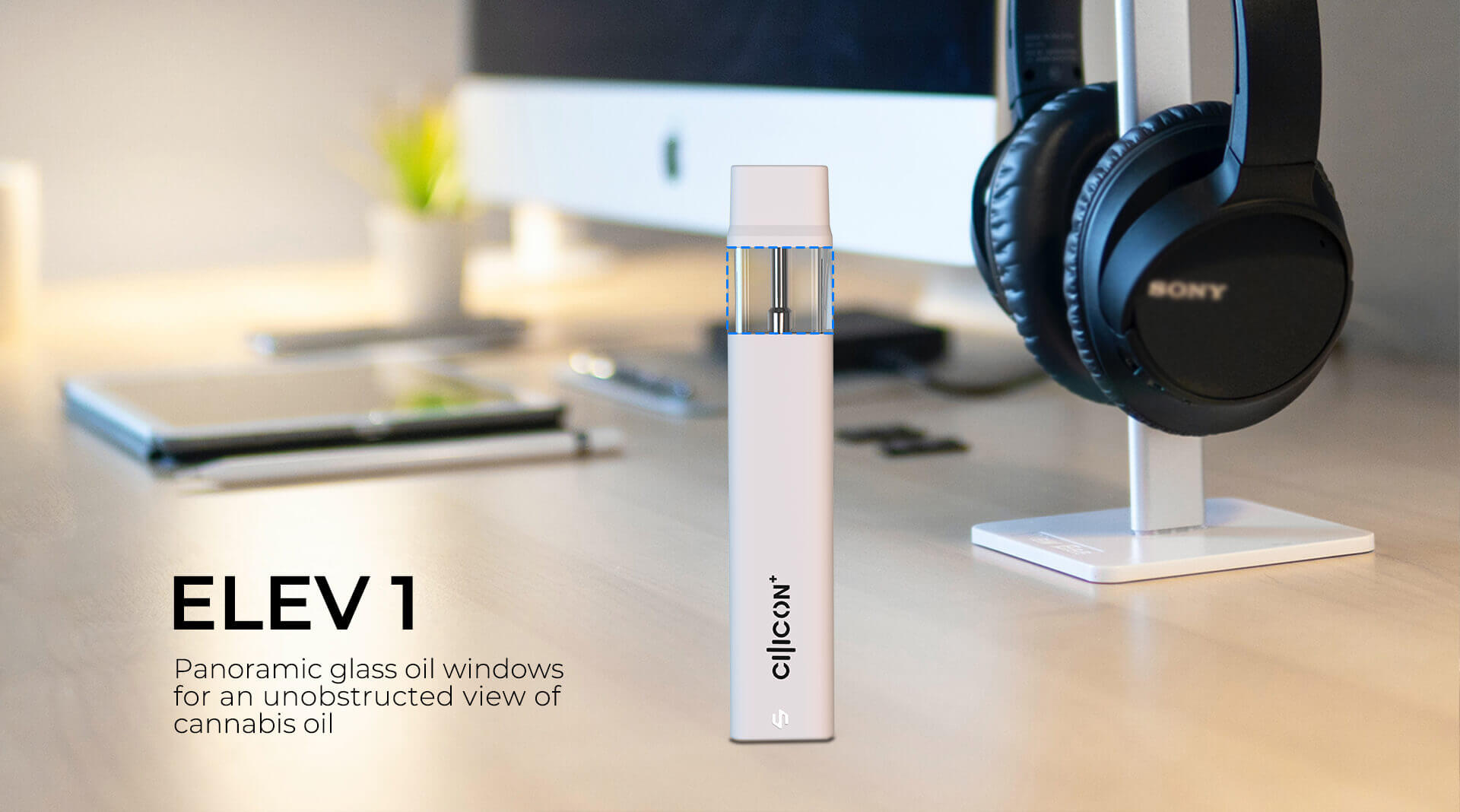 #4 Plastic! Why not?
Many cannabis vaporizer businesses aim for cost-effective materials but hesitate as they want to avoid the potential risk of harming their brand image. One of the materials that cannabis vaporizer brands usually avoid is plastic. This material is generally considered hazardous for the environment, making a product look flimsy and prone to deterioration, leading to health risks for the users, especially when used for ingestible products like a cannabis vape device.
Little did they know that the development in material research has brought plastic to light. High-quality plastic material has been invented and is suitable for constructing cannabis vaporizers. This kind of plastic is categorized as food-grade and medical-grade. Not to mention, we can also find biodegradable plastic that can be effortlessly recycled. So, let's break the stereotype of plastic as a substandard material!
Cilicon Shortcuts Your Way to A Premium Cannabis Vaporizer Product Line
Worry not, Cilicon will be your all-in-one cannabis vaporizer manufacturing partner! You don't need to go over the nitty-gritty and let us handle the material sourcing you need. Cilicon is forever determined only to utilize the highest quality materials to ensure the flavor consistency and the health of your customer. For instance, we source a special ceramic heating element for all of our cannabis vaporizers. Our ceramic heating element has been tested more than 20,000 times and proven to deliver a consistent heat that will level up the cannabis vaping game. Moreover, many our cannabis vaporizers also feature a panoramic glass window with high clarity to let you be informed about the leftover cannabis oil in your cannabis vaporizer's tank. Say no more to running out of cannabis oil in the middle of the day!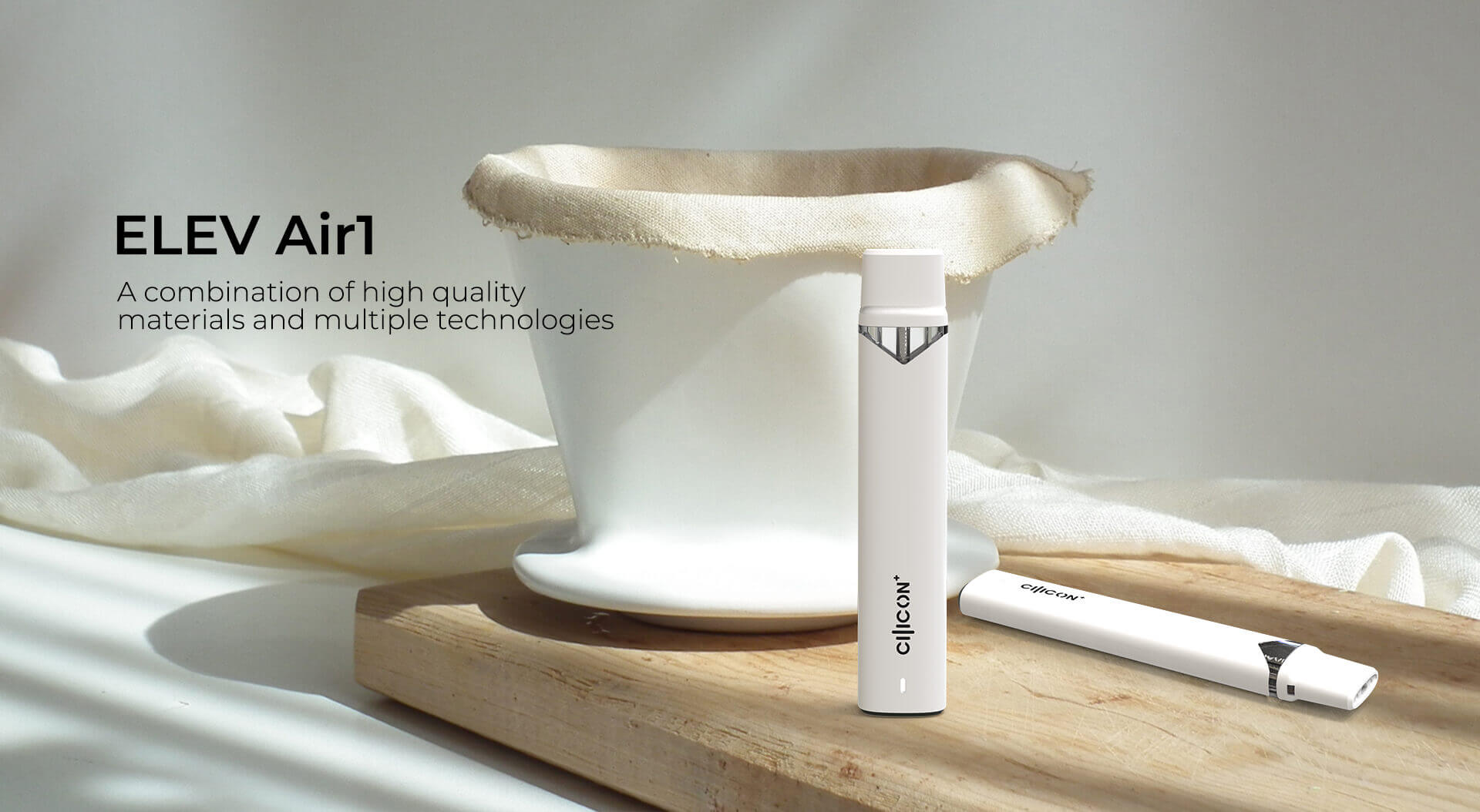 If you want to look for quintessential cannabis vaporizers that utilize the highest-grade plastic material, you can definitely go for ELEV Air1 and EDGE Air1. These two cannabis vaporizer product lines feature not only premium material but also a bunch of technology that can help solve common problems with cannabis vaporizers, such as spit back, oil clogs, and oil leaks. But, if you aim to get more creative, partnering with Cilicon also offers flexibility as you can create your own original cannabis vaporizer design exclusive to your brand. Let us help you turn your brilliant vision into a reality and be the leader in the cannabis vaporizer industry!